That Awkward Selfie Kid From Justin Timberlake's Super Bowl Halftime Show Is Speaking Out, And He's Thrilled To Become A Meme (PHOTO)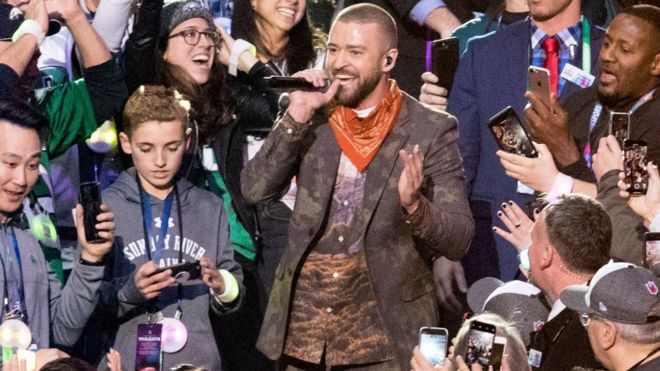 Unfortunately, I did not watch Justin Timberlake's halftime performance at the Super Bowl, so I can't tell you my thoughts. I have seen mixed reactions on social media. Some people say it was super boring, while others say he set the stage on fire, so it sounds like pretty much every Super Bowl halftime performance ever.
During Timberlake's performance, he went into the crowd to jam with the audience. And when he found 13-year-old Ryan McKenna, he told him to take a selfie and McKenna didn't have to think twice. He pulled out his phone and snapped the photo you see below. It's actually a pretty good shot, considering the amount of pressure he was probably in. I would have fumbled the hell out of it and opened up the calculator app by mistake.
And while the selfie was cool and all, what happened after and before the selfie was, well, a little awkward. People on social media were having a good ol' time breaking down the awkwardness of McKenna, who seemed to forget where he was at one point.
When you don't know who Justin Timberlake is #PepsiHalftime #SuperBowlAds #Super Bowl pic.twitter.com/6EOPzS53x3

— Kareem Hunt Fan Page (@kareemhuntfanpg) February 5, 2018
People were joking that he didn't know who Timberlake was, but McKenna talked to reporters after the big game and explained he was just freaking out on the inside…
"I just thought to myself, 'I'll never get this opportunity again in my whole life,' It's been so crazy. I don't even know what to think. All my friends have been texting me and stuff. It's insane. My phone is almost dead. I've gotten so many notifications. I've got like 36 Snapchats, like 21 DMs, and like 150 follower requests on Instagram."
He was scheduled to travel back to his hometown in Massachusetts with his father, but now he's scheduled to appear on Good Morning America, so it looks like Massachusetts will have to wait.
---