UPDATE: (Video from victim added) Chris Brown Might Be Going To Jail Again After Punching A Photographer (Who Was Just Doing His Job) At A Nightclub In Florida (VIDEO + INJURY PHOTO)
Inviting Chris Brown to make an appearance inside your nightclub is kinda like inviting E. coli into your cheeseburger. The cheeseburger might taste good while you're eating it, but before the night is over, sh*t is going to be covering the walls of your bathroom.
Brown made an appearance at Aja Channelside late Sunday night/early Monday morning. It was a paid appearance, so he showed up with his entourage at around 1:30 in the morning.
When he arrived, the club's in-house photographer snapped some photos of him. Chris didn't like this, so he had his bodyguard shut the photog down.
Later in the night, Brown was working the DJ booth when the photographer started taking photos of the crowd behind the singer. Chris didn't like this, so he confronted the guy and punched him in the face. You can clearly see Brown throwing a punch or two in the video below.
Chris is in red and his bodyguard is in yellow. It must be real easy for Brown to start fights when he knows he has a bodyguard there to protect him 24/7.
There are now two videos of the incident.  One is very clear but taking from  a ways back.  Then there is the TMZ video where they zoom in on Chris Brown and you can clearly see the punch being thrown.
(action starts around the 0:20 mark)
Then there is the TMZ video which shows everything up really close.  You can clearly see Chris swinging!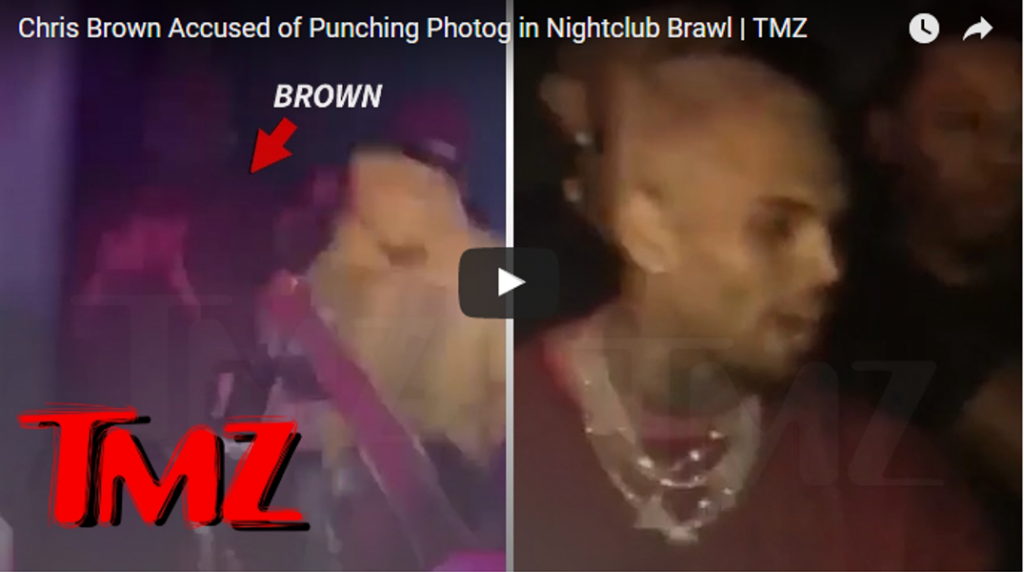 1
---