Sucker Punch From Hell: INSANE VIDEO Shows Rapper XXXTENTACION Getting Knocked Out Cold On Stage, AND THEN HE RELEASES A SONG ABOUT THE BRAWL! (VIDEO)
When we say the video above is "insane," we genuinely mean it. Rapper XXXTentacion was performing in San Diego on Wednesday night. He had the place jumping.
But during his set, some dude ran on stage and sucker punched him. XXX dropped to the ground and was knocked out cold. Security guards rushed on the stage and beat the sh*t out of the attacker. And then other people jumped on stage, which caused a brawl to break out.
Thankfully, a few security guards remembered XXX was still knocked out on the ground, so they picked him up like a baby and carried him off the stage.
According to the people who were at the venue, someone was stabbed backstage after the punch. We're not sure if it was the attacker who got stabbed, or if he might have stabbed someone. The point is, XXX got knocked out, the attacker got the sh*t beat out of him by security guards, and someone got stabbed.
Many people believe Rob $tone and his friends are behind the attack…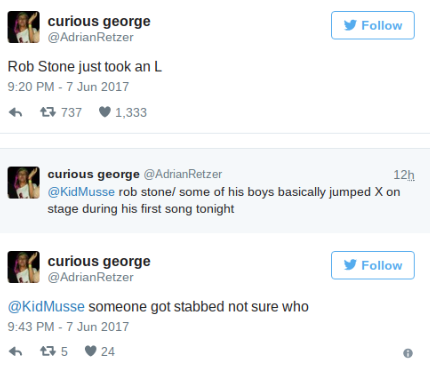 So what did XXX do after waking up and returning to Earth? Well, he did what any smart businessman would do, he released a new song about the incident.
The track titled 'Off The Wall,' has cover art featuring a news story of the event with the headline: "Person stabbed during concert at Observatory North Park."
Listen to it below…
---