IT'S HAPPENING! Conor McGregor vs. Floyd Mayweather Will Happen, Find Out When The Fight Of The Century Will Go Down!!!
Today is a glorious day, folks. We have been talking about this potential boxing match between Floyd Mayweather and Conor McGregor for almost two years now. At times, it looked like it would never happen. Even though both fighters were up for it, the details in the contract and a fight over money looked like it was going to prevent it from happening.
But now we are happy to report that all sides have come together and the fight will happen. Both Mayweather and McGregor made the official fight announcement on their social media accounts.
And of course McGregor added a little goof with his announcement on Twitter…LOL!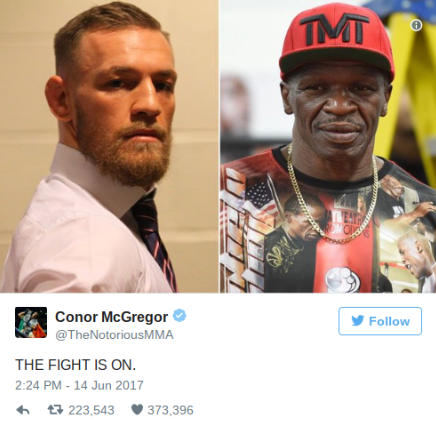 So when and where will this fight happen? August 26 in Las Vegas. That's right, folks. You have just two months to prepare for this. Start buying your snacks right now.
This pay-per-view fight is going to make a ridiculous amount of money. Chief executive of Mayweather Promotions, Leonard Ellerbe, believes it could gross half a billion dollars: "Yes, of course, why not? It's a very, very hot fight, and a fight that the fans want."
Mayweather's fight against Manny Pacquiao drew an estimated 4.4 million viewers and generated close to $600 million in revenue. And considering this upcoming fight will bring together the boxing crowd, MMA crowd and those "oh sh*t, I want to be included too!" fans, those numbers could be matched or even beat.
According to the reports, McGregor will be contractually prohibited from "going rogue" during the fight. If he elbows or kicks Floyd during the match, he will lose a lot of money because Floyd will sue his a** and destroy his life. We all know how much Conor loves money, so we're 100% confident he will be able to control himself.
This should be an easy fight for Floyd. He's 49-0 in his professional career. He's faced the best boxing has to offer, so Conor (who is not a professional boxer) should not be a great challenge for him.
The only chance Conor has is landing a knockout punch, but that's going to be extremely difficult 'cause Mayweather is probably the best defensive boxer ever.
Basically, people all over the world will be paying $100 to see if Conor can pull off the upset of the century.
---