Scott Disick And Bella Thorne Are Back Together Again, Partying And Drinking Hard Following Lana Del Rey's Birthday Party
Well, Scott Disick and Bella Thorne have a very strange relationship. Last month, they had a week where they were hanging out together 24/7. Heck, Scott even flew Bella out to the Cannes Film Festival! But while they were at the festival, Bella got bored (or Scott got bored, who knows) and she went home early.
On Twitter, she wrote that the "#cannes fancy life" was not for her. She also claimed the festival bored her, and everyone assumed that was the end of Sella. After all, Disick is 34-years-old and Bella is just 19-years-old…how long was it really going to last?
The answer is up in the air right now, 'cause their relationship is back on. After Scott sent her some flowers and invited her to his house, the two stars are back together. On Thursday night, Bella and Scott went to 1 OAK to celebrate Lana Del Rey's birthday party. They were partying and drinking hard the entire night, according to insiders.
After leaving the party, they hit up an insane after-party in Beverly Hills. They arrived at the after-party at around two in the morning and didn't leave until four.
You can click on this link to check out a clip of Scott chugging a beer while Bella watches on with pride. Scott is obviously not worried about his alleged drinking problems. His family and friends might be concerned, but he still believes he's fine. He hasn't hit rock bottom yet. It's not going to be pretty when he does.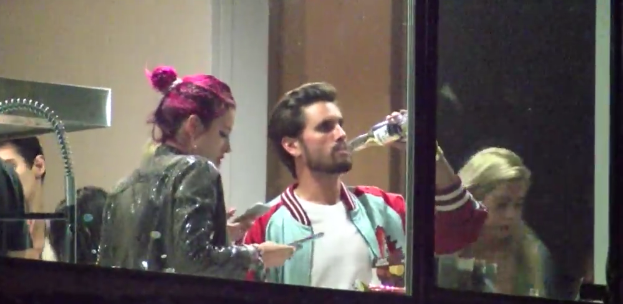 ---