'Teen Mom 2' Star Kailyn Lowry Shows Off Baby Bump In Bikini Photos, Check Them Out Inside!
If there is one thing we know about Kailyn Lowry, it's that she loves to be pregnant. The MTV reality star has a 7-year-old, 3-year-old and she's about to give birth to her third child later this summer.
In the last season of 'Teen Mom 2′ Lowry had an extremely dramatic year. She split from her ex-husband Javi Marroquin, and most likely cheated on him while he was away. This caused a lot of fights between them. It was great for the cameras, but terrible for the children.
Just a month or two after the divorce was final, Lowry announced she was pregnant with her third child, and no…Javi is NOT the father. She announced the pregnancy news in February, but did not announce who the baby daddy was until several months later. She confirmed in May that her friend Chris Lopez is the father.
He was the "friend" of hers who we saw last season on the show when Javi and her got in that explosive fight. His face was not pictured, but you saw him helping load things in the car while Lowry hugged her ex-boyfriend/father of her first child, Jo Rivera.
You'll remember that the fight between Lowry and Javi started because he believed she had a dude inside the house. It looks like Javi's suspicions were true, 'cause this dude was clearly banging the Teen Mom 2 star.
Anyway, the drama is over now, and Lowry is trying to move on. She recently went on vacation in St. Thomas with her two sons, and she proudly showed off her baby bump…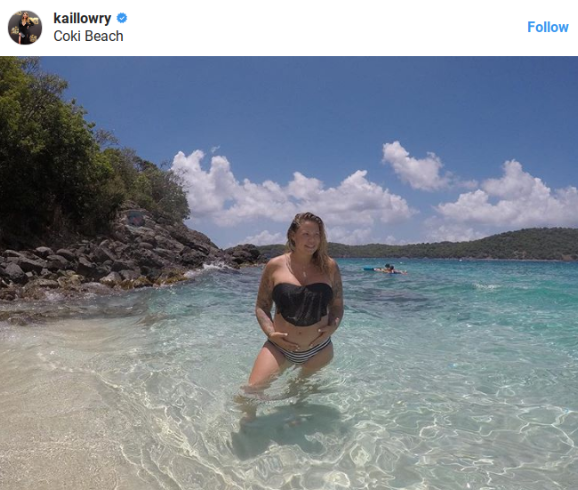 As mentioned above, the baby is due later this summer. An exact due date is not known at this time, but we will keep you posted! Hopefully it's all filmed for the upcoming season of the show!
---