Blac Chyna's Side Piece Rapper Snaps Back At Rob Kardashian, Posts More Naked Photos Of Chyna In Bed
Jesus. This has to be the most confusing piece of beef the internet has ever seen. Typically, when a jealous ex (Rob Kardashian) releases naked photos of his baby mama to get revenge on her, the police get involved because it's considered a crime.
But in this case? Well, everyone is posting naked photos of Blac Chyna. Her side piece, rapper Ferrari, fired back at Rob yesterday by releasing more naked pictures of Chyna.
In both photos, Chyna and Ferrari appear to be naked under the covers together. The photos were allegedly snapped a month ago, back when Rob had no idea Chyna was cheating on him. Sources say Ferrari released the photos to show Rob that he ain't broke. Apparently, Chyna is wearing the rapper's $250k chain in the pictures, 'cause we all know it's impossible to be broke and own expensive jewelry.
This whole situation is ridiculous. The fact that Rob and Blac had a child together is still so insane to me. Like, I can't believe God let that happen. Does this prove God is not real? Or was he napping when they had unprotected sex? I'm so confused.
Anyway, hopefully this most recent drama is the finale. Rob needs to move on from this sh*t, and he's saying all the right things on Twitter…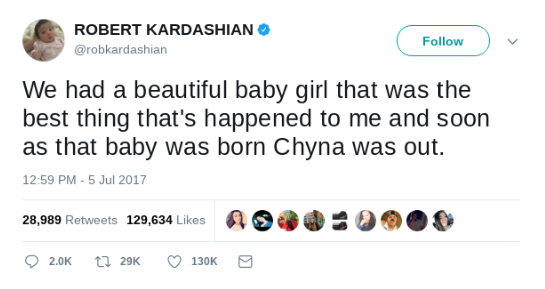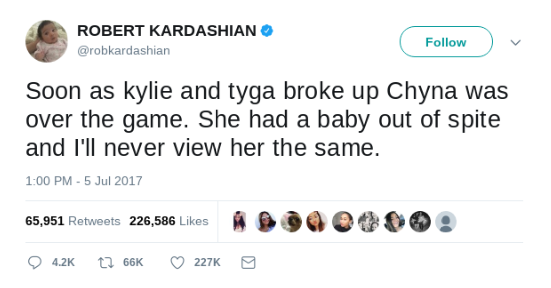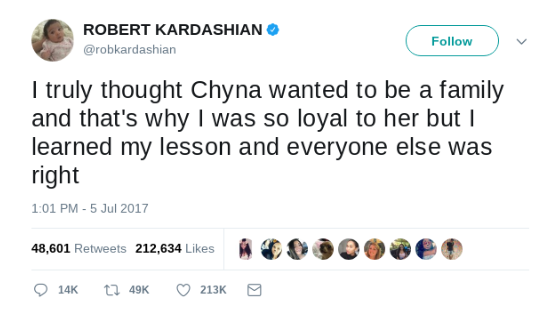 Stay strong, man. And stop engaging. Let it go, focus on your kid and stay off social media. Or you know, continue to give us stories. We're not going to complain. At this point, we're just going to assume you enjoy the attention.
---