Somebody Should Be Fired! WSJ Apologizes for Insensitive Venus Williams Tweet. The Tweet is Pulled But Reposted in Their Apology? WTF! (DELETED TWEET)
I refuse to think this was a mistake.  I think this was something like the giant "Johnson" on the front of the Little Mermaid DVD.  Someone over at the WSJ thought it would be clever and "funny".  However this is the WSJ; I have to assume their twitter account isn't being ran by some pimply faced, summer intern, snapchatting his balls in stall two with one hand and tweeting with the other.  I would also assume that their tweets are somewhat monitored for just these types of mishaps.  Like I said, somebody should be fired.
THE STORY
WSJ was promoting a story regarding the rule at Wimbledon that all clothing must be white.  Apparently this was pointed out to Venus after her first round victory and she changed in between sets but the story they linked to, is not about her! It's about another men's player at The All England Lawn Tennis Club.
The original headline read:
Something's not white! At Wimbledon, a player failed his pre-match undergarment check.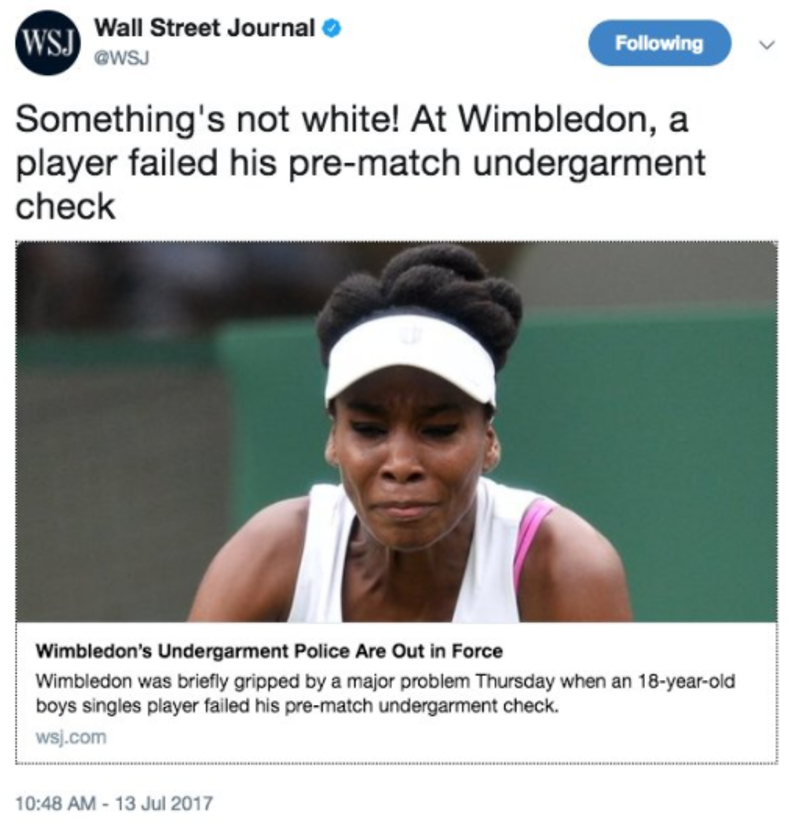 Really!
Oh, the best part: they apologize, say they deleted the tweet, and then repost the offensive tweet in the apology so those who were offended can be re-offended.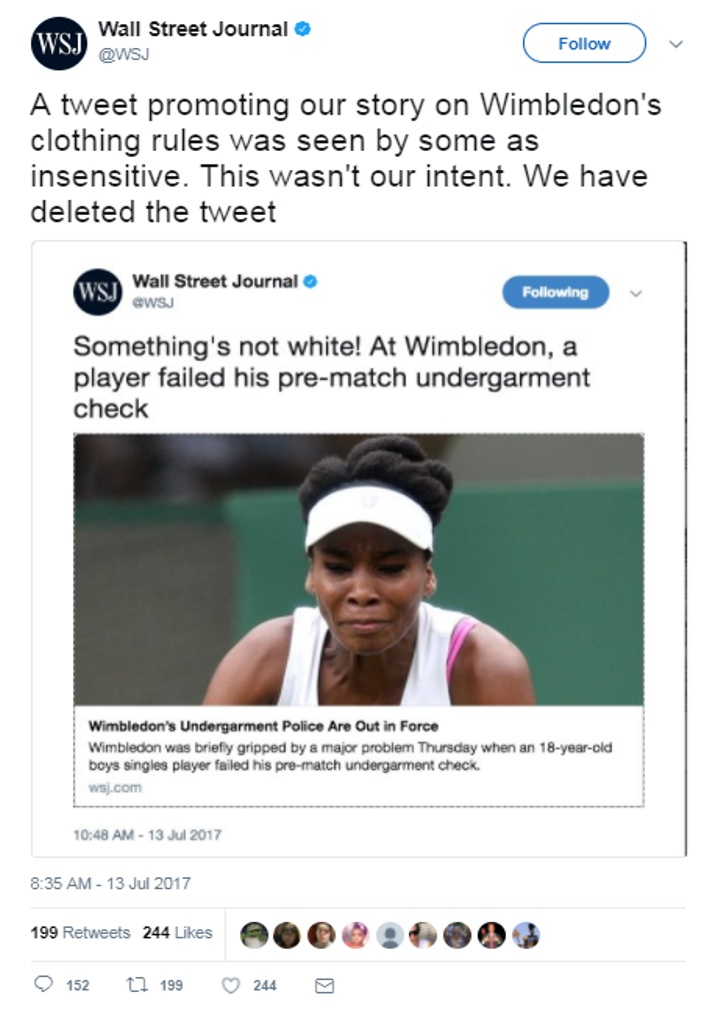 I wasn't the only one who thought the entire thing was and still is a bunch of crap.


They then retitle the story and sent out a new tweet:
Wimbledon's undergarment police are out in force https://t.co/GwOASM0K8H

— Wall Street Journal (@WSJ) July 13, 2017
Are people these days easily offended.  Yes.  Was I personally offended?  No, but I can also see how people can be offended; and if I can see that, then I'm clever enough to come up with a headline that can avoid that entire situation.
As the world becomes more digitally mobile focused, old news outlets are quickly falling by the waist side.  If you can't send a tweet without offending ½ your audience, then you will simply end up losing….1/2 your audience.  And then you will just cease to exist.  WSJ – Get your [email protected]#$t together.
UPDATE: For those questioning why I screenshot the "Apology" tweet with the old tweet attached; simply because I was expecting the WSJ to change that and wanted to capture it.  Here is the real embed while it lasts.  It appears they don't care enough to realize that posting the deleted tweet is not like deleting the tweet at all.
A tweet promoting our story on Wimbledon's clothing rules was seen by some as insensitive. This wasn't our intent. We have deleted the tweet pic.twitter.com/3mi57XvhTX

— Wall Street Journal (@WSJ) July 13, 2017
---