Nick Carter Sends Message To His Little Bro Aaron Carter After His Arrest For DUI In Georgia, SEE WHAT HE WROTE INSIDE!
I don't know about you, but if my brother was arrested for DUI, I'd probably reach out to him privately via some form of voice communication, but apparently things are different when you're a celebrity.
Nick Carter went on his Twitter account on Sunday, July 16, to send out a tweet to his little brother, Aaron Carter. The tweet read, "To my brother: I love u no matter what & if u feel the need to reach for help, I am here and willing to help you get better. Family isn't always easy."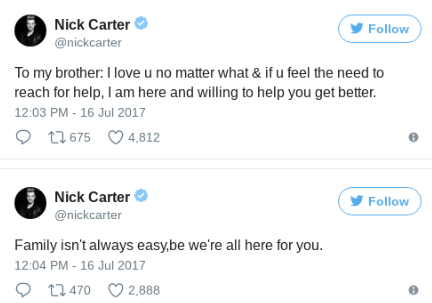 He sent out the tweets after his brother was arrested 90 miles north of Atlanta on Saturday night. He was charged with DUI, possession of less than one ounce of marijuana, and possession of drug paraphernalia.
Aaron's girlfriend, Madison Parker, was also arrested. Cops charged her with obstruction and two drug-related charges, so it's likely she tried to hide Aaron's drugs from the police.
In 2016, Aaron was on an episode of Oprah: Where Are They Now, and he revealed he started drinking heavily after appearing on Dancing With the Stars in 2009. In 2011, he spent a month in a rehab center.
This arrest is pretty sad. The past two years, it seemed like he had turned a corner. It's disappointing to see him going in this direction. Hopefully he checks his Twitter soon. Maybe he'll see that his brother reached out to him on social media. Maybe they can do some counseling through the DMs. I don't know how it works anymore. Apparently, you just talk about the private struggles of your loved ones on social media now.
My brother was constipated two weeks ago. Have fun with that information.
By the way, it looks like Aaron agrees with us. After he was released from jail, he went on Twitter and released the statement you see below:
"If my own blood truly cared about my well-being, why wouldn't he call me directly and have a conversation instead of making this about him through a very public forum? That's not cool at all to use me for his PR and kick me while I am down. I love my family despite it through thick and thin."
In his statement, he also claimed the police targeted him due to his fame, which is a bit ridiculous because I highly doubt officers in some small a** town in Georgia would recognize Aaron Carter.
"Aaron holds a medical license for medical marijuana for his long standing anxiety. He feels his 'celebrity' was targeted and an attorney will be retained in this matter. The video from Auto Zone will prove that Aaron was not in a moving vehicle while arrested and charged with a DUI."
---