Fans Are Freaking Out After Justin Bieber Cancels Remaining 'Purpose' Tour Dates, But One Artist Is Sticking Up For Him!
It feels like we have been talking about Justin Bieber's Purpose World Tour for years, and that's because he kicked it off 18 months ago. He kicked off the tour back in March of 2016 in Seattle.
A lot has happened on this tour. There have been some great moments, but there has also been a lot of disagreement between Bieber and his fans. It seems like Bieber has grown up, but his fanbase has not. He went back and forth with his audience several times during this tour, practically begging them to stop screaming while he was talking.
It was a battle, and for the most part, the Biebs handled the drama well. But it looks like the stress of being on tour for nearly two years was just too much for him.
A rep for the 23-year-old singer sent out the statement you see below to the media:
"Due to unforeseen circumstances, Justin Bieber will cancel the remainder of the Purpose world tour concerts. Justin loves his fans and hates to disappoint them. He thanks his fans for the incredible experience of the Purpose world tour over last 18 months. He is grateful and honored to have shared that experience with his cast and crew for over 150 successful shows across six continents during this run. However, after careful consideration he has decided he will not be performing any further dates. Tickets will be refunded at point of purchase."
Bieber had 14 shows left on the schedule, so obviously those fans who had tickets for the concerts were extremely disappointed. Some went on their social media accounts to express their disappointment.
But not everyone is upset with Bieber's decision. John Mayer went on his Twitter account to defend JB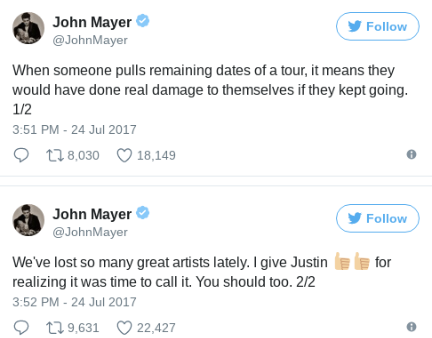 That's a real cool move by Mayer. We don't know what's going on inside Bieber's head. He could be close to a complete breakdown. 18 months on tour is enough to make someone go insane.
---