Chris Brown Just Angered A Bunch Of Rihanna Fans Without Saying A Word, Find Out What He Commented On Her Latest Instagram Photo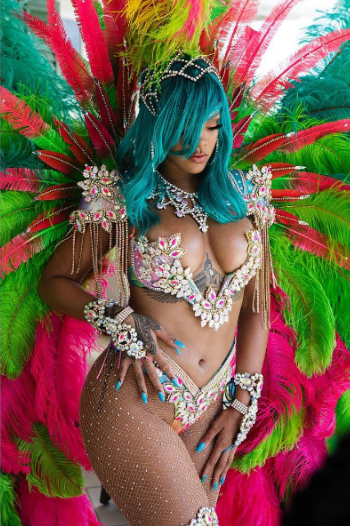 Chris Brown and Rihanna had a terrible relationship. It should have ended way before it did. It should have ended the first time Brown put his hands on her, but as with most abusive relationships, it continued for quite a while.
Back in November of 2015, Rihanna explained the complicated situation to Vanity Fair:
"I was very protective of him. I felt that people didn't understand him. Even after … But you know, you realize after a while that in that situation you're the enemy. You want the best for them, but if you remind them of their failures, or if you remind them of bad moments in their life, or even if you say I'm willing to put up with something, they think less of you — because they know you don't deserve what they're going to give."
It's been years since they were together, and for the most part, Brown has stayed away from her and her extremely protective fans. But that changed on Monday when RiRi posted the photo you see at the top of this page. She's been enjoying life at the 2017 Crop Over festival in Barbados, and she shared one of her revealing outfits with her fans.
She looks good, right? Chris Brown certainly thinks so. He tried to creep inside her comments by simply posting an emoji of a pair of googly eyes.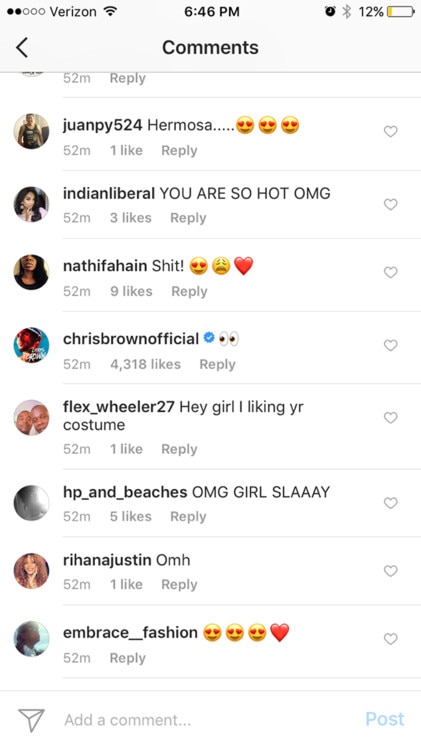 Obviously, some of her fans had a problem with Brown's comment, and they were quick to stand up for their idol. One fan even brought Drake into the mess by saying, "@champagnepapi so you just gonna let Breezy comment on your girl's pic like it's all good?"
Another fan wrote, "Chris brown just leave her alone my guy," which is what most fans said. They want Brown to act like Rihanna doesn't exist, and we can't blame them. Rihanna's fans feel like they're her family, so of course they are going to be protective.
Brown had to know he was going to take some heat, but I guess he just had to comment on this…
---