Zayn Malik Opens Up In New Interview, Reveals What The Perfect Date Night With Gigi Hadid Is And Admits He Does Not Talk To Harry Styles
Zayn Malik is living the good life right now. He just released the first single from his second studio album, and he's all up in the fashion world. The 24-year-old singer hosted Us Weekly's Most Stylish New Yorkers party earlier this week, and before the big event, he sat down with the magazine to talk about his life.
He was, of course, asked about his relationship with Gigi Hadid. They first went public with their relationship back in December 2015, and it's been nothing but love ever since.
During the interview, he was asked how they both handle dating in the spotlight, which is something a lot of celeb couples seem to struggle with…
"We try not to think about it too much. There are a lot of people who are too busy in other people's lives. I just concentrate on my relationship and try to do right by my girlfriend and she does by me, and we hope for the best, as we all do!"
Seems like pretty solid advice. If you put all your energy into your relationship, the result is going to be positive. So what does a typical date night look like for Zayn and Gigi? Maybe some fancy restaurant and a walk on the beach?
Nah. They ain't down with that…
"We both cook, so we like to make meals for each other. I make chicken and sweet corn pie. She likes that."
Sweet corn pie? That sounds, uh, interesting. According to Google, it looks something like this…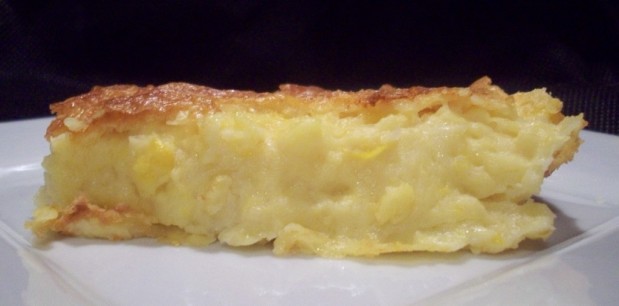 It looks like complete sh*t, but I'm sure it's delicious. It's basically baked sweetcorn, eggs, butter and cheese…so how can you mess that up?
By the way, Zayn also revealed that he does not talk to Harry Styles anymore. In fact, he didn't even really talk to him while he was in One Direction…
"To be honest, I never really spoke to Harry even when I was in the band. So I didn't really expect that much of a relationship with him."
Damn. At least he's honest.
---