'Teen Mom 2' Drama, New Mom Briana DeJesus Is Reportedly Dating Kailyn Lowry's Ex-Husband, Javi Marroquin! (PHOTO)
If you have not been following the latest season of Teen Mom 2, take this as your official warning to jump on the train…CAUSE SH*T WILL GO DOWN AT THE REUNION SHOW!
During this latest season, MTV added to the original cast of mothers. They brought back Briana DeJesus from 16 & Pregnant, and so far, it looks like that was a wonderful decision. She is adding some much needed drama to the reality show.
According to multiple reports, Kailyn Lowry's former husband, Javi Marroquin, is dating DeJesus. He posted the photo you see above earlier this week, and you can clearly see the two stars are delighted to be standing next to each other. After rumors started to swirl, Javi talked to RadarOnline and confirmed they were dating.
They were first spotted together back in September, and it looks like they have stayed in contact this entire time. They even took their kids to Disney World last month. "It's amazing with Bri and me," Javi said.
BUT WAIT, THERE'S MORE!
Dejesus seems to be denying the relationship. She told E! News that "nothing is going on," and she also deleted most of her posts with Javi from her social media accounts. It's possible she deleted the photos because she's not ready to go public with this relationship for obvious reasons.
Even the possibility of a romance has sparked all kinds of drama. Kailyn went on her Twitter account to send out this mystery message, "Lmao don't sh*t where you eat."
Fans assumed she was talking about DeJesus, and it looks like she was…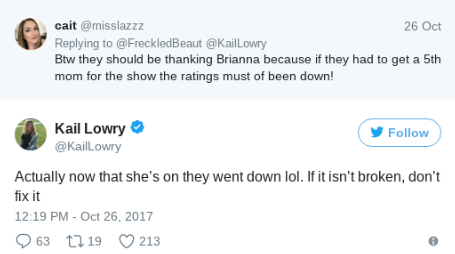 The drama is too real, folks. I would be careful if I were DeJesus. It's likely Javi is just using her to get back at Kailyn. He was extremely hurt by her decision to file for divorce, and he's had a lot of trouble getting over it.
This relationship might be a message to his ex-wife. Don't get stuck in the middle, Bri!
---