WAIT A MINUTE! Tyrese is really, Literally, Actually Broke! Will Smith Just Let him Hold Some Millions!!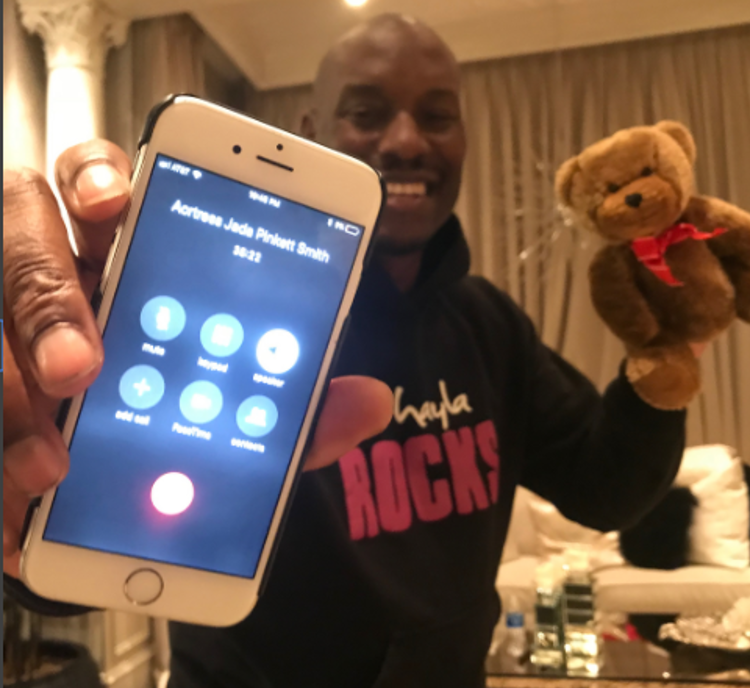 Tyrese shows that he just got a phone call from Jada Pinkett Smith.  (Source: Instagram)
---
How in the world?  I swear I think these guys from Dubai done hustled Jodi out his coins.  Do you understand that this man is part of 2 of the Biggest Franchises in movie history!
He was in 5 "Fast and the Furious" movies, 3 "transformers" movies, he has 6 solo albums and one "suepergoup" album.  He has tours, he's been in over 13 music videos…come on man! The list goes on and on.
He only has one baby's mamma and child.  There is no excuse for this man to be broke.  None!
It might sound like I am angry because I am.   I hate seeing those who have waste it.   Voltron travel…  Pshhh.  This man has talked so much smack about how much money he has, preached about and against black women and hair weaves and you mean to tell me, you can't even afford your own legal fees.
He's not claiming bankruptcy – which is different, that's to restructure debt.  That's what 50 cent did.  He's straight up borrowed money from Will Smith.
I hope and pray he needed the money because 24 of his $25 million is tied up in interest earning investments…but I doubt it.
WILL SMITH LET TYRESE HOLD $5 MILLION
Tyrese posted this this morning….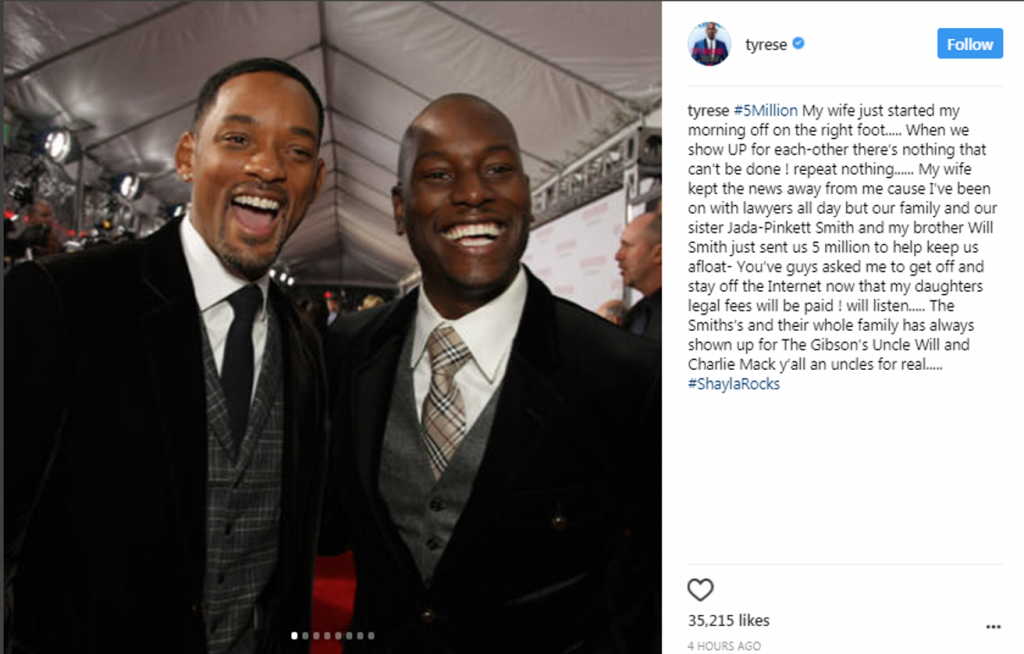 #5Million My wife just started my morning off on the right foot….. When we show UP for each-other there's nothing that can't be done ! repeat nothing…… My wife kept the news away from me cause I've been on with lawyers all day but our family and our sister Jada-Pinkett Smith and my brother Will Smith just sent us 5 million to help keep us afloat- You've guys asked me to get off and stay off the Internet now that my daughters legal fees will be paid ! will listen….. The Smiths's and their whole family has always shown up for The Gibson's Uncle Will and Charlie Mack y'all an uncles for real….. #ShaylaRocks
Let's hope that Will gets this back although I doubt it.  Let's hope that now, that the criminal investigation has been dropped that Tyrese can get his self and his career back together. (see post below).
Let's hope that The Rock laughs all of this off and lets him be in the Fast 9 with a cameo in Hobbs. (Let's be honest, Dwayne Johnson owns that franchise now).  And let's hope that Tyre-shia can display a little more genuine humility moving forward.  Not the kind that show us how humble he is, the kind where we can actually see it.  Kendrick Lamar, Chance the Rapper, Will Smith, Denzel.
Tyrese we are still rooting for you…but sometime you make it hard.
---