Sources Close To Will & Jada Smith Claim They Did NOT Give Tyrese Gibson $5 Million!
Is Tyrese Gibson losing his mind? No, not at all…BECAUSE HE ALREADY LOST IT! This dude obviously needs some serious help, and we're not talking about financial help. He needs mental help.
As we reported a few days ago, Gibson went on his Instagram account to talk about how Will & Jada Smith sent him $5 million to help cover his legal fees, 'cause apparently he's broke somehow.
"When we show UP for each other, there's nothing that can't be done! …Jada Pinkett-Smith and my brother Will Smith just sent us 5 million to help keep us afloat. You guys asked [me] to get off and stay off the internet now that my daughter's legal fees will be paid."
Of course, he did not stay off the internet after announcing this. Not only did he stay on the internet, he offered to give someone a free ride to Harvard University once he receives the $5 million from Will.
That's the last head shake we have left to give. Our necks are f**king stiff as hell, Tyrese! What are you doing? What happened to make you lose your mind so damn quickly?
While we wait for answers, we must inform you that TMZ is claiming Will and Jada did NOT send Tyrese any money. Sources close to the couple claim the $5 million gift never happened, but they are very worried about their friend. They believe, like everyone else, that Tyrese is having some sort of mental breakdown.
Just today, Tyrese posted about how he can't talk about his daughter on social media anymore…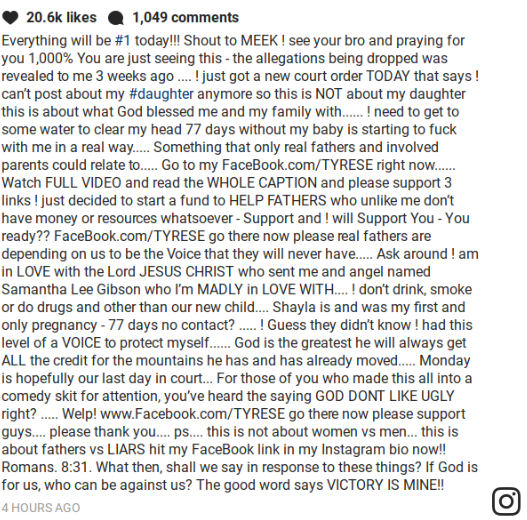 You can always tell who is going through a difficult time when they start throwing out random messages from the bible on their social media accounts. #blessed
---