'70s Teen Heartthrob David Cassidy Has Died At The Age Of 67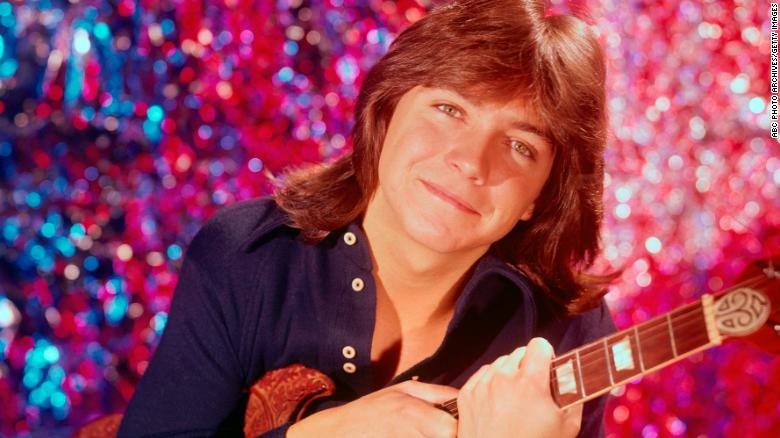 Some sad news to report this Thanksgiving week. David Cassidy, the star of the the musical sitcom The Partridge Family, has died at the age of 67. The talented performer, who could act and sing, had recently been admitted to the intensive care unit of a hospital in Florida. He was in critical condition and suffering from organ failure.
Doctors told his family that he would need a liver transplant to survive, but he was not a candidate for the transplant because he wouldn't have survived the surgery.
His entire family was with him inside the hospital before his death, including his three brothers, children and his ex-wife, Sue Cassidy. His nephew, Jack Cassidy, tweeted about his uncle's death…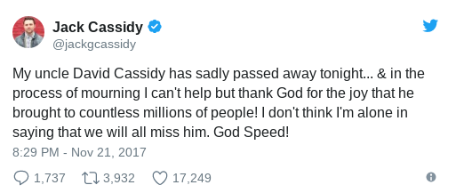 Cassidy was one of the most popular stars in the '70s, as CNN explains:
In 1970, Cassidy began playing the role of Keith Partridge on the musical sitcom 'The Partridge Family.' His stepmother, Jones, portrayed his mother, a widow with five children.The popular ABC series ran for four years and also had a successful run in syndication. The show also spurred several pop hits. The single 'I Think I Love You,' featuring Cassidy on lead vocals, hit No. 1 on the Billboard charts in 1970 and sold more than 5 million copies. The songs 'Doesn't Somebody Want To Be Wanted' and 'I'll Meet You Halfway' also cracked the top 10 the next year.
Our thoughts and prayers go out to his friends and family during this difficult time.
---