DJ Khaled Is Officially The New Weight Watchers Spokesperson, Find Out How Much Weight He Has Lost So Far!
For years, we've known DJ Khaled's 'another one' phrase to mean another hit single, which he has produced many of, but now #anotherone has a completely different meaning.
Another one = another pound for Mr. Khaled. The 42-year-old music producer has signed on to be Weight Watchers' newest social media ambassador. He will publicly document his weight-loss journey on his social media accounts as he follows Weight Watchers' Freestyle program.
He announced the exciting news on Instagram by posting a MAJOR KEY ALERT…
As you can see, Khaled is already down 20 pounds, which is actually pretty impressive because he started this weight loss journey during the holiday season. I don't know about you, but I'm pretty sure I've gained 20 pounds this past month. I've been eating brownies for breakfast for the past week.
It's a smart move for Weight Watchers to target Khaled. He has a HUGE social media following: 8.9 million followers on Instagram, 3.9 million on Twitter, 3.4 million on Facebook, and his posts on Snapchat get at least 3 to 4 million views.
Weight Watchers CEO Mindy Grossman said in a statement…
"By capturing and sharing his process, (DJ Khaled) will enliven and inspire his community. Showing that it's possible to integrate healthy habits into your life." 
Yeah, but…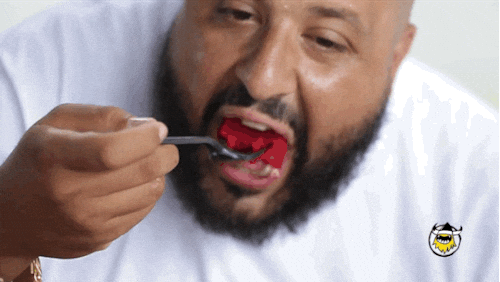 ---