'Teen Mom' Star Catelynn Lowell Is Back Home After Entering Treatment For Suicidal Thoughts
While most people spent this past holiday season with their friends and family, Catelynn Lowell spent Thanksgiving and Christmas Day away from her family. Last month, she posted on Twitter that she had thought of "every way to kill myself…so I'm going to treatment," and go to treatment she did.
The 'Teen Mom' star went to a rehab facility for her depression for six weeks. As most of you know, this is the second time Catelynn has entered rehab for depression. In 2016, she spent a few weeks in a rehab facility in Arizona after giving birth to her daughter, Novalee, who is now 2 and 1/2 years old.
Catelynn's husband, Tyler Baltierra, celebrated her return by posting the throwback photos you see below.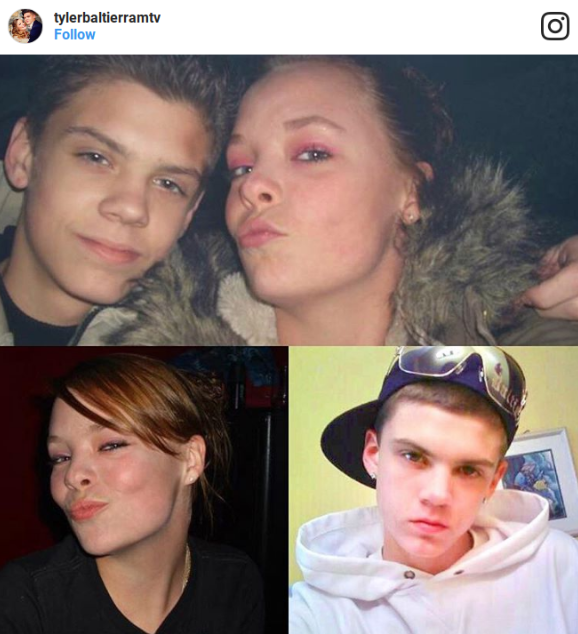 "Throwbacks of me & my wife at 15 when the duck face was all the rage & I bought glasses that were too big for my peanut head lol! Seriously though, Cate comes home today & I can't wait to just hug her for as long as I want. I am so incredibly proud of her & the work she has done this past 6 weeks. She is a strong woman who has been through more than you know & her resilience continues to triumph over what life has thrown her way. I love you Babe @catelynnmtv hurry home please, I've missed you so much! #MiddleschoolSweethearts."
You know, it's nice he's still being supportive, but if you've watched the recent seasons of Teen Mom, you can see he's growing tired of her depression. I know that's a pretty crappy thing to say, but it's the truth. He is this positive guy, who seems to always be in a decent mood, so to have this constant cloud hanging around can be quite challenging.
Obviously, we're not blaming Catelynn for her illness. She needs help, and we truly hope she can find happiness soon. No one should be in so much pain. She seems like such a sweet person, but to act like it puts no strain on a marriage is silly. Hopefully Tyler is also receiving treatment. They both need it.
In happier news, the daughter they gave up for adoption when they were teenagers sent them both a nice Christmas gift this year…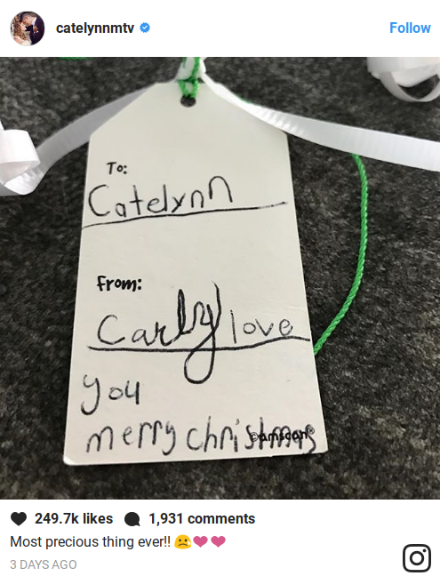 ---