Ellen DeGeneres Reveals To Her Audience That Her Father Died Earlier This Week, Watch Her Emotional Monologue (VIDEO)
On the Thursday (Jan. 11) episode of The Ellen DeGeneres Show, Ellen dropped the jokes for a few minutes to talk about her father, Elliot. She revealed to her crowd that he died earlier this week at the age of 92.
And the fact that he lived to be 92 is quite the achievement, considering the fact he never went to the doctor or took medicine…
"He was 92 years old.  He had a good, long life. And he lived his life exactly how he wanted. He was Christian science his entire life. He never had medicine his whole life. He never went to a doctor. We never had a vaccination. We never had medicine growing up and he lived to be 92."
While you should definitely avoid taking medication when you can, and you should look toward your diet to fix a lot of health issues, we wouldn't recommend going this extreme with it. If no one received vaccinations, we'd all be f**ked.
Anyway, Ellen continued to talk about her father. She said that he was a very accepting man. He loved her and was extremely proud of her…
"He was very proud of me. He loved this show. He was a kind man, very accepting man. There was not one bone of judgment in his body. He was very funny … Before he passed away I got to talk to him, so I got to say goodbye to him."   
She also went on her Twitter account to share the adorable photo you see below of her and her father many years ago. Our thoughts go out to Ellen and her family.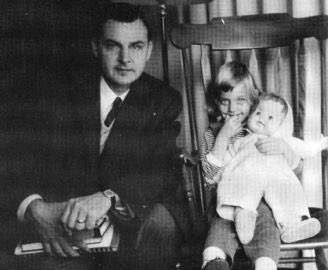 ---