UPDATE: Remy Ma's Sister Arrested Without Bail For Shooting, Then Victim Reveals on Social Media….That Remeesha Blount Didn't do it!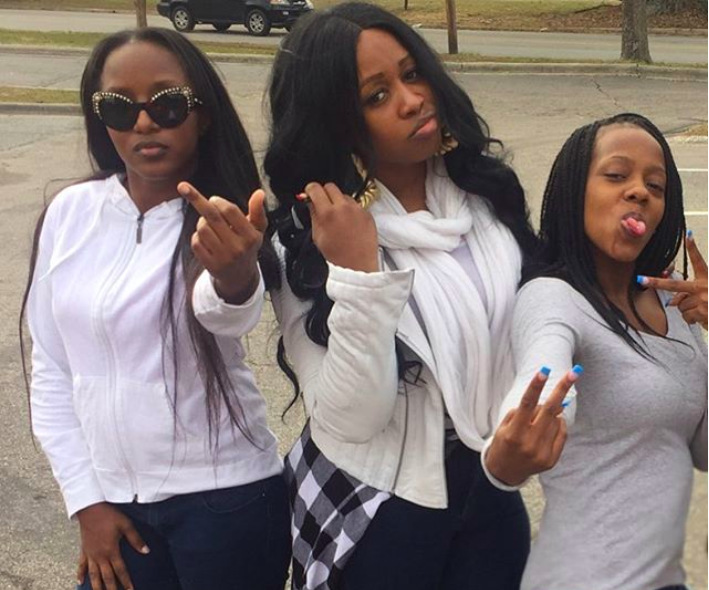 Remy Ma with her two sisters; Shooting suspect, Remeesha Blount, pictured far right 
---
SCROLL DOWN FOR UPDATE POST FROM THE VICTIM!
Here is the original story:
Looks like gun violence runs in the family.  Remeesha Alesia Blount was arrested on Monday after a dispute at a night club ends in gun violence.
The incident happened at a spot called End Zone.  Apparently, a dispute broke out in the parking lot and Remeesha pulled out.  She then fired shots into a car that had three women inside.  One woman was shot, and while the three women fled the scene, the wounded woman also got hit by the car that was pulling out.
SIDE NOTE:
After reading 4 news stories, this is still hard to imagine, because the three women were in the car when the shooting started. If that's the case, did Remeesha start shooting and the one lady who got shot, jumped out and then got run over?  Was she hanging out the window, got shot and then fell out the car and got run over?  This part is not clear. 
Either way, the 27 year old Rameesha was arrested at an apartment Complex shortly thereafter.
Blount was charged with one count of assault with a deadly weapon with intent to kill inflicting serious injury, three counts of assault with the weapon with intent to kill, shooting into an occupied vehicle and discharging a firearm in the city.
She is being held without bail as it was determined she's a flight risk and a danger to the community.  She also has racked up past pending charges including assault with a deadly weapon, shooting a gun inside city limits and assault by pointing a gun.
And in case you are wondering, the gunshot victim is still alive. She was listed in fair condition at WakeMed Hospital in Raleigh.
The parallels to Remy's case are too strange.  Remy's situation happened outside of a night club after she accused a woman of stealing money.  Remy shot the women, in the car and fled the scene, after rummaging through the woman's purse, while she lay bleeding to see if her money was inside.  Remy then left without calling for an ambulance or offering any other assistance to the wounded.
Remy Ma was ultimately convicted of assault, illegal weapon possession and attempted coercion in connection with these charges. She did 6 years in prison.
I don't see the judge going lightly on her litter sister.  Remy has 2 older brothers and 2 younger sisters.  She recently shouted them out in an Instagram post.  Maybe Big Sis, will put up some coins for a decent lawyer.  Sad.
THIS IS THE UPDATE:
As I was digging into the details, this popped up – it appears that she said that Remeesha didn't do it.  Either she didn't do it for real, or Fat Joe came through with that bag!
More to come as I learn more.
---