Cardi B Is Reportedly 6 Months Pregnant, And She's Still Going To Perform Next Month At Coachella
Cardi B has not confirmed her pregnancy, but TMZ is acting like it's a done deal. And considering they got it 100% right with Kylie Jenner, we're going to believe them.
According to the report, Cardi is six months pregnant with Offset's baby. She's due the first week of July, which would make one think she'll be slowing down soon.
But no, she's going to rock 'til that baby is popping out. Sources close to the rapper claim she will still take the stage next month at Coachella. She will also be going on tour with Bruno Mars in September, which will be just two months after she gives birth.
Why is she pushing it so hard? Cause she can't pass up the big paychecks. She will be receiving close to $100k per night during the tour, and the same goes for her performances at Coachella. You can't pass up that cash. We are sure her baby will understand.
By the way, this is what Cardi wore to the iHeartRadio Music Awards last week. As you can see, it definitely looks like she's trying to cover something up…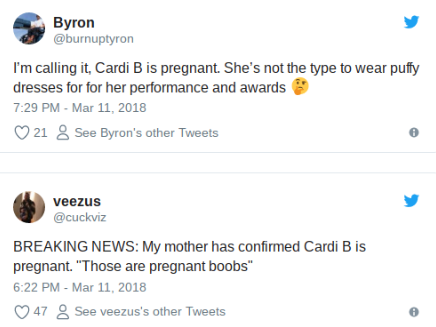 If you're wondering how the pregnancy news was leaked, TMZ claims her team told nightclub staffers that she was pregnant during Super Bowl weekend.
---