Kendall Jenner And Ed Sheeran Are Getting A Lot Of Heat For Appearing In Music Video With Chris Brown, But Is He Finally Growing Up?
The other week, we shared a pretty cool music video with you all. The video was for Lil Dicky's new song with Chris Brown titled Freaky Friday. It's a pretty catchy song and the video is hilarious, as to be expected with a Lil Dicky production.
In the video, both Ed Sheeran and Kendall Jenner make cameos and of course people had a problem with this. People are still upset over the 2009 incident, when Brown beat Rihanna and left her face looking pretty damaged. He didn't exactly help himself in the following years after the assault, but in the past year or so, he has shown signs of growing up. (more on this later)
But still, those images of a beaten Rihanna are still clear in the minds of a lot of people, which means if you work with Brown, you are taking a big risk.
Both Jenner and Sheeran have been receiving a lot of hate from their fans. When Jenner shared a link to the music video, her fans started sending her tweets like, "Please tell me you're not supporting Chris Brown," and "Girl please don't support an abuser."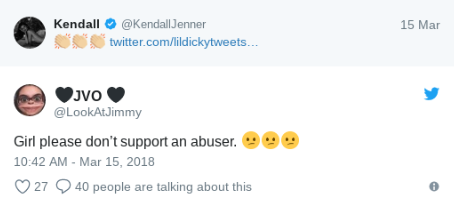 Sheeran felt the wrath as well from his fans…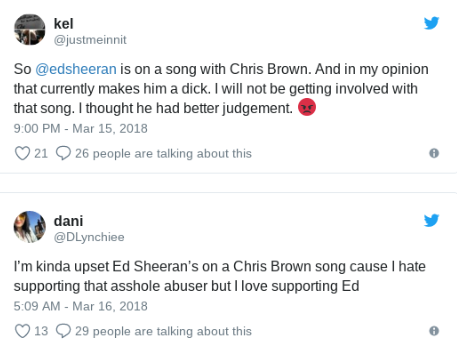 The problem with this is that these people are probably unknowingly supporting stars who have abused someone. The reason people are still so angry about the Brown assault is because it was so public and he didn't handle it well at all.
But there are some signs out there, which appear to suggest he is growing as a person. One big sign is the music video. He probably wouldn't have agreed to participate in something like this a few years back because he was afraid to laugh at himself.
In addition to not taking himself too seriously, he recently commented on a photo of his ex-girlfriend Karrueche Tran with her new boyfriend Victor Cruz.
"They look really good together," he wrote. Some people believe he was being sarcastic, but we're going to hope for the best and assume he was being genuine.
The world is a better place when you're positive.
---