Safaree Samuels' Shocking Gunpoint Robbery Footage Leaks Online and Safaree Explains How His Life Has Changed (VIDEO)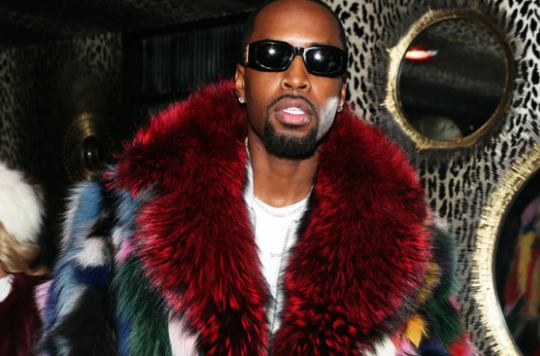 Earlier this month we told you all about the terrifying armed robbery Safaree Samuels experienced. The rapper/reality TV star was robbed at gunpoint in New Jersey last week.
He lost over $180,000 in cash and jewelry, but thankfully walked away with his life. The experience was traumatic for Samuels.
He even cried while talking about the robbery during an interview with Angie Martinez. People were hating on him, claiming he was being a little bitch, but those people have probably never had a gun pointed at their face before in a dark parking garage.
The video that was leaked is surveillance video from the parking garage. It's not the best quality, but you can still see what went down. You can see Safaree standing next to his vehicle in a red fur coat when two men approach him and his friend with a gun. After taking all his cash and jewelry, the suspects ran and so did Safaree and his friend. They weren't about to wait around.
The good news is that both suspects were caught a short time later by NYPD. One of the suspects, Shawn Harewood, was a close friend of Safaree a few years ago, but they stopped talking after Safaree and Nicki Minaj broke up in 2014.
Here he can be seen in a photo with Safaree and Nicki!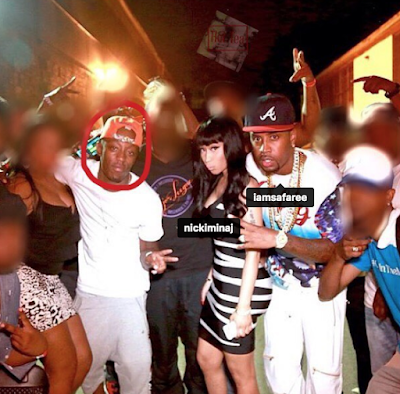 Harewood has known Safaree since they were teenagers, but had not spoken to him since his break-up with Nicki Minaj.  This picture was taken about six or seven years ago at Safaree's birthday party in Queens.
Harewood and the other suspect were arrested and charged with first-degree robbery. Safaree called the incident "one of the scariest nights of my life," and we believe him. Just look at how much Kim Kardashian's armed robbery event changed her.
This ain't a video game. To have someone right in your face threatening your life with a gun? That's rough, and you can bet Safaree is going to be paranoid for the rest of his life.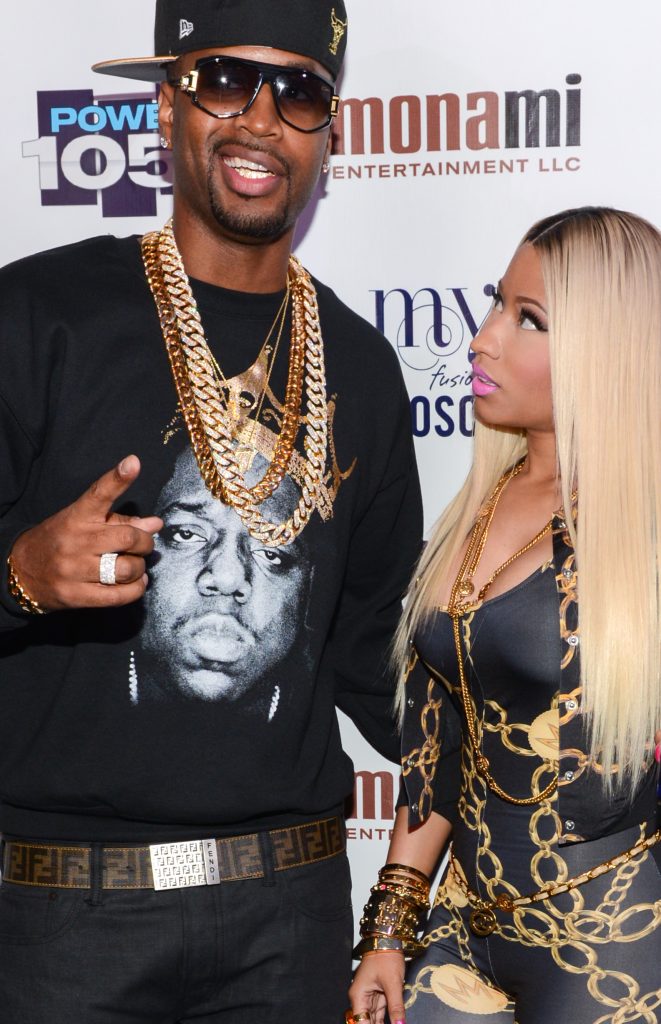 SAFAREE IS NOW IN THERAPY
It looks like the incident was truly traumatizing and Safaree is handling things as a responsible adult.  He is seeking help and changing his life for the better.  All we can do is applaud that.  Well done.
Had my 1st therapy session today and Thank God… it was incredible… I'm implementing a new rule in my life .. no more phone or social media after 9pm.. Peace and blessings … gonna get back control of my life !!!

— @IAMSAFAREE (@IAMSAFAREE) April 11, 2018
---
---
WATCH! Video Surfaces of Safaree Getting Jumped at a BET Awards Event. He Says Its Meek Mill and his "Dreamchasers". Meek responds! (JUMP VIDEO AND SAFAREE RANT)
The whole Safaree vs Meek Mill beef just escalated into full on fisticuffs.  Safaree was dressed head to toe in all white; ready to enjoy the BET award festivities when things popped off.   Here is the outfit that he had on.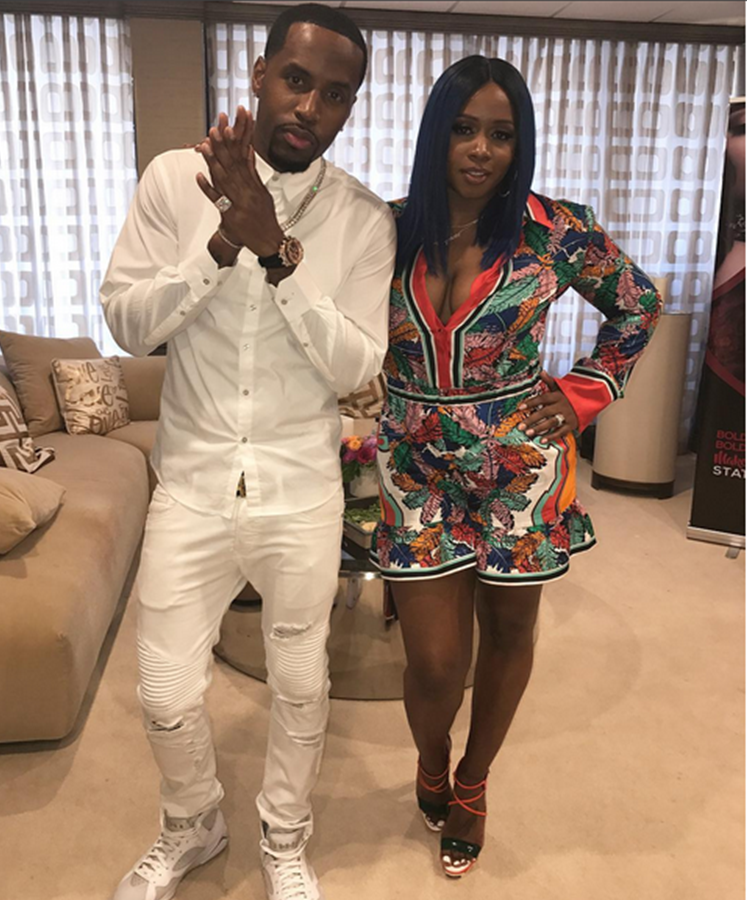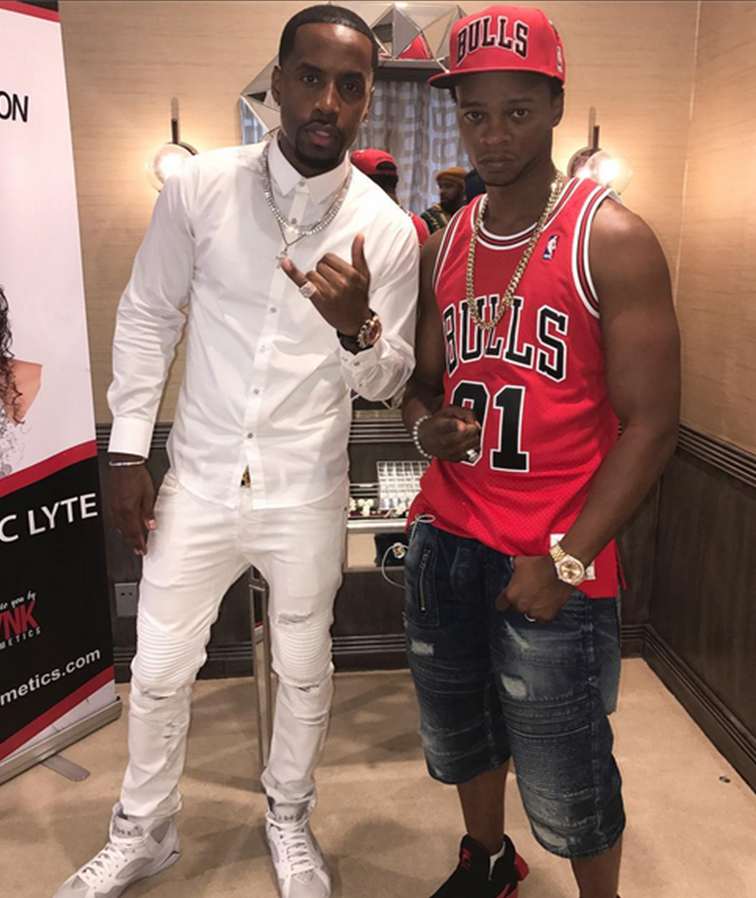 This is important for two reasons:
The first reason is because in the video clip you are about to see, he gets jumped but there are actually two people.  People are calling the video fake, because at first glance, you see someone with a white shirt and black pants getting beat down before escaping, but if you watch again, you will see Safaree in all white, breaking loose and running, essentially leaving his boy behind to absorb the rest of the beat down.
Watch and then watch again.  At the 26 second mark you can see Safaree at the top of the screen in all white.  He got hit once and pulled a Usain bolt.
(No Ads to skip in any of these videos)
UPDATED VIDEO SHOWS MEEK GETTING OUT!
The second reason that the all white is important, is because people are saying that Meek took another "L".  If you are going to send your boys to jump someone, at least they can dirty up his white suit.
In this clip, you can see hi immediately after, still on the sidewalk, still dressed in all white, still shining.

In this final clip, Safaree is back in his whip and calling Meek Mill out.  Says he was basically minding his own business!

---
---
WATCH NOW: Safaree Reveals Meek Mill caused his break up with Niki Minaj
---
---
---