UPDATED: Wanda Sykes Quits 'Roseanne' Following Roseanne Barr's Racist Valerie Jarrett Tweet
UPDATE:
Just one hour after posting our story, ABC reacted to Roseanne's racist comment by canceling her show. The network released a statement saying, "Roseanne's Twitter statement is abhorrent, repugnant and inconsistent with our values, and we have decided to cancel her show."
Sara Gilbert, the actress who plays Darlene on the show, sent out the tweet you see below…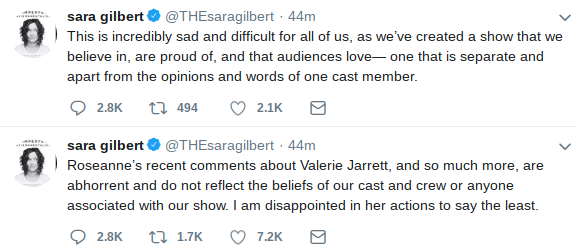 ORIGINAL STORY BELOW:
If you watched the new season of Roseanne, then you know Roseanne Barr was the least enjoyable thing about the show. We all know John Goodman and Laurie Metcalf carry the show. In fact, I think they could replace Barr with some other actress named Roseanne and people wouldn't notice much of a change.
And ABC might want to start that search now, especially if they want a second season, 'cause Barr is out here making enemies on social media.
Early this morning (May 29) Barr sent out a tweet (that has since been deleted) that read, "Muslim brotherhood & planet of the apes had a baby=vj," the 'vj' is short for Barack Obama's former White House advisor Valerie Jarrett.
We're not sure what prompted Barr to tweet this, but it was obviously in poor taste and a bit racist.
At first, Barr dismissed fans who called the tweet racist, "ISLAM is not a RACE, lefties. Islam includes EVERY RACE of people," she fired back.
But then, after she started receiving hate from all sides, she apologized and said she needs to stay off Twitter.

This apology wasn't enough for some people, though. Comedian Wanda Sykes, who worked as a consulting producer on this latest season of Roseanne, went on her Twitter account to announce she will not be returning for a second season.
And several other stars called out Barr on Twitter, including Don Cheadle, Rosie O'Donnell and Patricia Arquette…
i love roseanne quite a bit

the comment roseanne tweeted was racist and childish
and beneath her best self
she has apologized

twitter is a dangerous place

— ROSIE (@Rosie) May 29, 2018
you can take @RoseanneOnABC out of racism but you can't take the racism out of @therealroseanne … https://t.co/sJs7Hn5zrn

— Don Cheadle (@DonCheadle) May 29, 2018
I am repulsed that Valerie Jarret had that racist and bigoted "joke" made at her expense and I am sickened that any Black or Muslim person has to keep hearing this sickness in 2018.

— Patricia Arquette (@PattyArquette) May 29, 2018
---