Roseanne Returns To Twitter And Sends Out More Apologies, Also Appears To Blame Racist Tweet On Ambien? WHAT?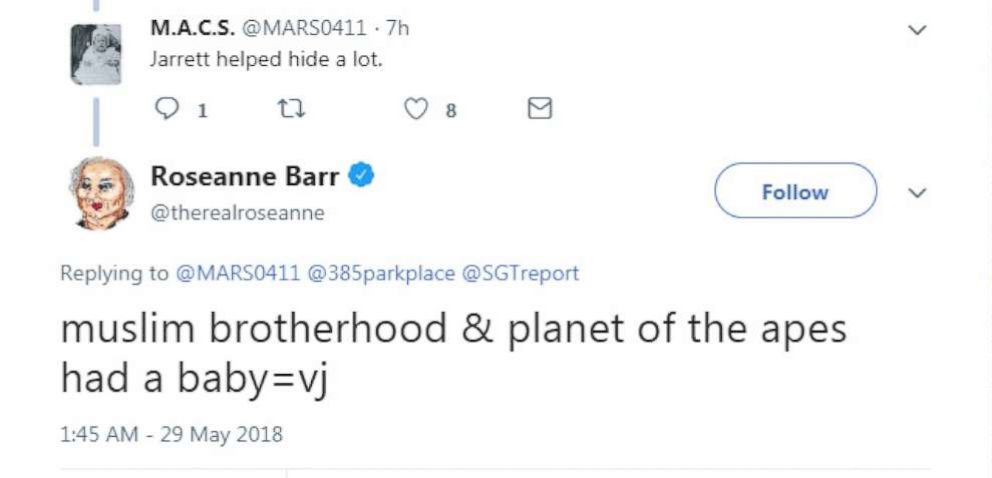 Yesterday was a freaking crazy day in the world of television. Early Tuesday morning, Roseanne Barr went on her Twitter account and posted the racist tweet you see above, directed toward former presidential aide Valerie Jarrett.
This obviously didn't sit well with people. Once the sun came up Tuesday morning, people were outraged on social media and ABC was quick to cancel the second season of the Roseanne reboot. Sara Gilbert, the actress who plays Roseanne's daughter Darlene on the show, sent out the tweet you see below…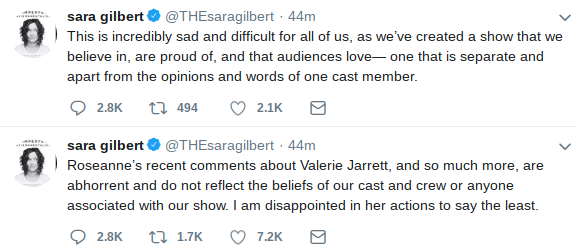 And she makes a good point. Not only was Roseanne's tweet racist, but it was also an incredibly selfish thing to do. Hundreds of people had jobs, could put food on the table for their families because of this show, and now they're all being forced to find a new project before its too late.
Roseanne claimed she was leaving Twitter after apologizing Tuesday morning, but she didn't leave for long.
She was back Tuesday night, and this time she appeared to be blaming Ambien for her tweet.
"Don't feel sorry for me, guys!! I just want to apologize to the hundreds of people, and wonderful writers (all liberal) and talented actors who lost their jobs on my show due to my stupid tweet. I think Joe Rogan is right about ambien. Not giving excuses for what I did (tweeted) but I've done weird stuff while on ambien-cracked eggs on the wall at 2am etc."
She also announced she would be on Joe Rogan's podcast this Friday. For his part, Rogan tweeted an old article from the Huffington Post about the "disturbing side effect" of Ambien. He's also discussed sleep issues in a recent episode.
The only problem with this is that no drug could ever make me become a racist. Those words were already inside Roseanne. The drugs might have unleashed them, but Ambien didn't place them there.
So yeah, I'm not buying that bullsh*t excuse. I say ABC should do a spinoff. Keep the writers, and everyone on the cast except Roseanne. Get real crazy and start a relationship between Aunt Jackie and Dan. Maybe Roseanne dies, Jackie comforts Dan and they realize their true feelings for each other.
And it opens the window for lots of hilarity, 'cause I'm sure the kids would all be freaking out.
---