T.I. Says His Kids Are Not "Rocking" with Him and spends Father's Day Alone as Leaked Cheating Video Reveals Asia'h Epperson as the other woman.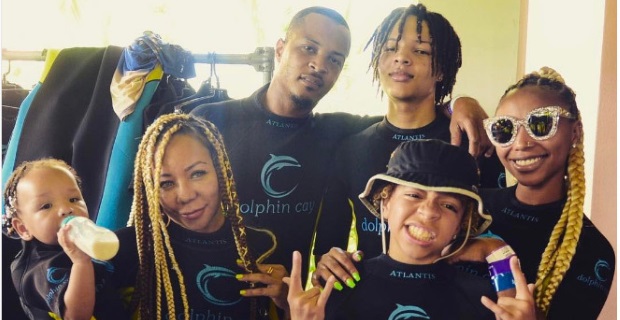 Welp, not sure what he expected.  As we revealed in a previous post, T.I. went on the IG to share a post with has fans that was anti-marriage.  This started a small feud as Tiny clapped back with a post from Snoop Dogg in support of marriage.
Shortly thereafter the following snap chat video was leaked…and the internet exploded.
After the video was released, the internet does exactly what the internet does…they tracked down the woman shown in the video and identified her as Asia'h Epperson.
WHO IS ASIA'H EPPERSON?
She is an actress currently starring in "Greenleaf" as Tasha Skanks; but she was also in "Straight Outta Compton" and got her start by being an contestant on American Idol.  She had a memorable audition because her father passed away just days before she had to sing in front of Randy, Simon and  Paula.  Here is a snippet of her audition.
The first connection between TI and Asia'h occurred a few weeks ago during the incident where the police were called when the actress and her friends were arrested for using the bathroom while the restaurant was starting to close.  TI posted the incident on HIS Instagram account.
So the million dollar question that everyone is wondering is….did she know T.I. before, or did she meet him as a result of this incident.
A quick look at Asia'h's Instagram and she is literally getting destroyed in her comment section.  She originally had her comments turned off, but decided for some reason to turn them on.
THE FAMILY SAYS ENOUGH IS ENOUGH!!
Finally the kids are now of age where this affects them, and they chose not to be with their father on Father's day. I can't say I blame them. You are not only embarrassing their mother; you are embarrassing them as well.  Not Cool!
This is what TI had to say
This really should be it for Tiny!  But somehow…..I doubt it.
---