MORE DRAMA BACKSTAGE: Judge Jeanine Pirro says that Whoopi Cursed Her Out, Spit on Her and Threw Her Out; Whoopi sets the record straight. (VIDEO)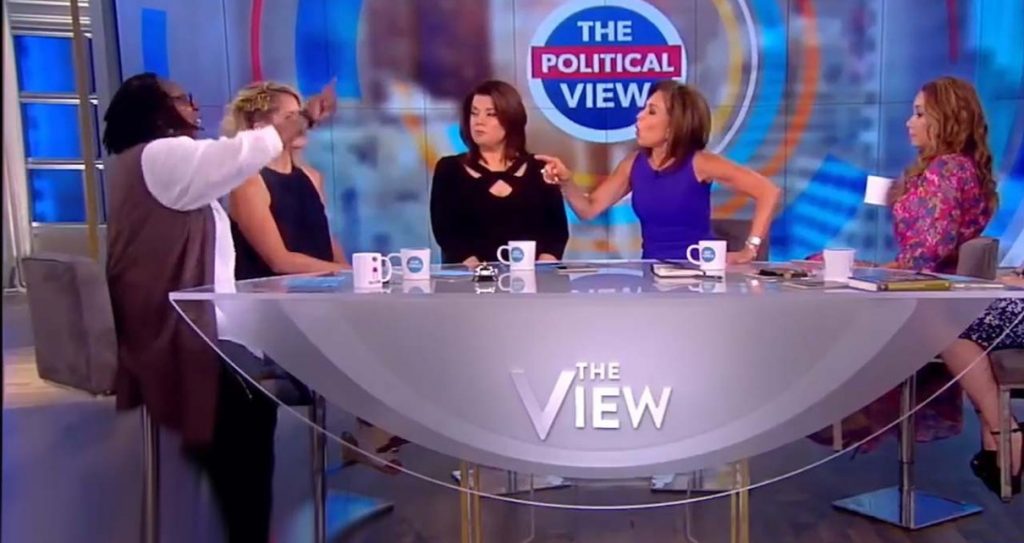 In case you missed it yesterday Whoopi and the Judge Jeanine Pirro went toe to toe.  Judge Jeanine was there to promote her new book, when as expected things got political.
Pirro's Pro-Trump rhetoric got Whoopi hot and bothered but it wasn't until Pirro accused Whoopi  of "suffering from Trump Derangement Syndrome," and pointed at her.  Once you hear Whoopi say, "Did you point to me?"
Watch the already classic segment.

Shortly after the show, Pirro was on Sean Hannity's radio show a gave her account of what happened.  BTW – it doesn't even line up with the video segment we just saw.
She told Hannity,
"I'm still reeling from it to be honest with you.  I went on thinking that we would have a discussion about the book. The truth is, that it was an attack on Donald Trump, and then on me. I sat there as Whoopi Goldberg pontificated about how horrible Donald Trump was and at one point I said 'you know I'm here to talk about the book' and then she went ballistic – ended the segment."
"She said 'that's it I'm done' and what people didn't see who were watching the show, was she yanked away from the desk where we were all sitting and she decided that she was going to end it.  No one saw that, but it got worse."
"When I went off the stage, Sean, I'm walking downstairs and I said something like, Whoopi I fought for victims my whole life and she came at me as I was leaving and she said 'F you' in my face – literally spitting at me, 'F you, get the F out of this building. And I said to her, 'did you just say that?' She said that's what I said, 'get the F out of this building' and she was screaming at me and I'm walking out of the building like a dog who was just kicked off."
Of course this recollection caused a lot of Whoopi backlash on social media, so Whoopi had to set the rercord straight.  She attempted to do so on Friday.  She tells her what really happened backstage.
Watch.
One thing for sure, The View is finally getting the ratings surge they've always wanted, Judge Jenine's book,  "Liars, Leakers, and Liberals: The Case Against the Anti-Trump Conspiracy" is selling off the shelves and we are entertained.  Everybody wins.
---