Cardi B Posts Picture of Her Bank Statement to Prove She Paid Cash for that Lambo. (DELETED VIDEO AND BANK STATEMENT)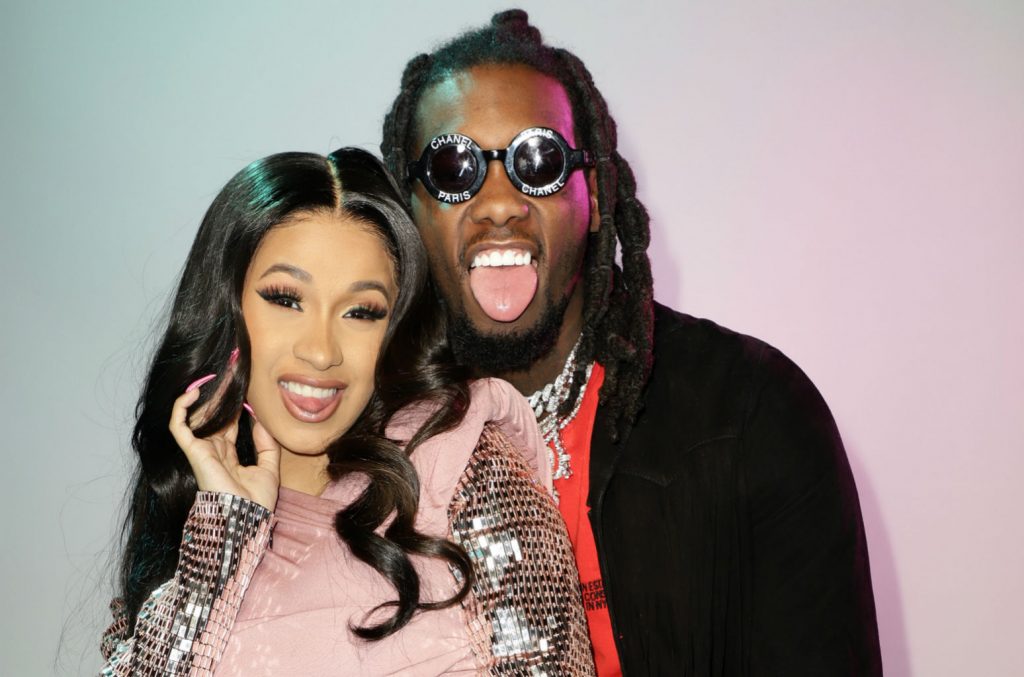 When most mothers give birth they trade their compact car in for an SUV.  As we all know, Cardi certainly is not like most mothers.
After giving birth and announcing that she is backing out of the tour with Bruno Mars, she posted this picture of her and Offset with his and her Lambos.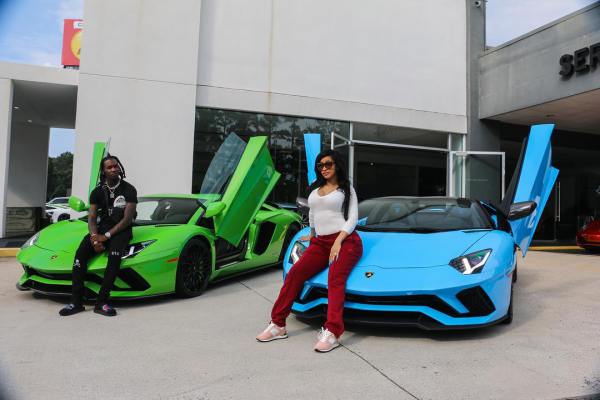 Apparently people made some comments about how foolish it was, how the vehicles were leased and how she will be going broke or is already broke.  These comments upset Cardi and she felt she had to prove all the haters wrong.
She went on Instagram and made a video showing the pink slip for the Lambo and then posted her Wells Fargo bank statement online proving that she withdrew over $500K in cash for the purchase.
Watch the video.
Cardi B took to Instagram in a now-deleted video to prove to haters her new Lamborghinis were not leased. pic.twitter.com/4udSOPyq4R

— Pop Crave (@PopCrave) July 29, 2018
Here is the bank statement.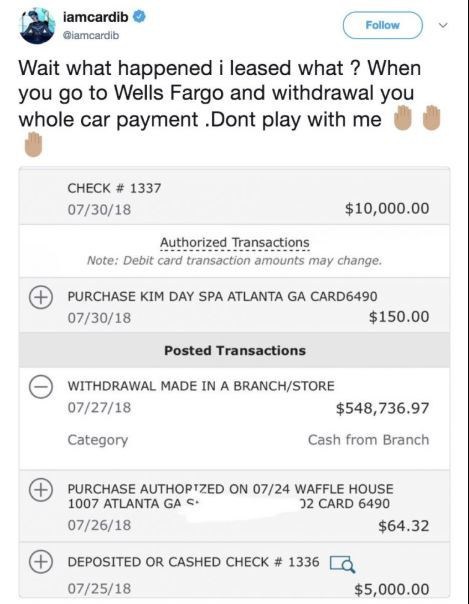 I'm not sure who her financial advisor is but leasing is typically the smarter option for celebrities.  I say typically because everyone's situation is unique.  The biggest reason being, as a celebrity, you will want to keep driving the latest and greatest vehicle.  No one wants a 5 year old Lamborghini Aventador Coupè sitting around.  If you plan on driving less than 8,000 miles per year in your luxury car, leasing it and trading it in every 2 or 3 years for a new one, is far more economical than buying new.  If you buy new, you are owning a car during it's highest point of depreciation and then trading it in.
However, if you are going to buy and hold a luxury car for 10 years, then spending that $500K isn't a that bad of an idea.
But don't worry about Cardi, even when she's not on tour, she's still making bank.  I'm sure TeamiBlends hit her lovely for this endorsement.
Don't hate the player……
---