Trump vs Omarosa: This is About to Get Good. Omarosa Has Secret Cell Phone Recordings to back Claims She Made In Her Soon to be Released Book.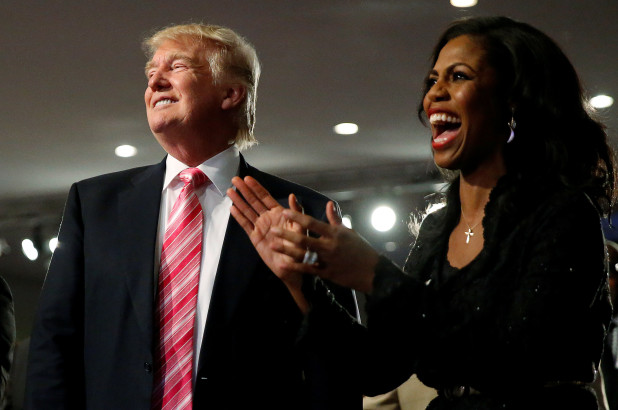 You can call Omarosa a lot of things, but stupid is not one of them. I wouldn't be surprised if her entire stint at the White House was planned, just to lead up to this.
I have to admit, when she was first thrown out of the White House and I heard her book was coming out, I could care less. I was on team Robin Roberts (remember when she told that b*tch, "Bye Felicia"). Now, I just put in my pre-order.
Omarosa secured a seven-figure book deal with Gallery Books. The Book's title, "Unhinged: An Insider's account of the Trump White House" is being touted by the publisher as the juiciest Donald Trump book to date.
The big reveal in the book is related to claims that Omarosa is making regarding President Trump's mental health decline. She feels that from the time she first met him, until now, that his mental capacity has greatly diminished.
In an excerpt from the book she talks about Trumps interview with Lester Holt.  She knew the man was "off.  She writes,
While watching the interview I realized that something real and serious was going on in Donald's brain. His mental decline could not be denied. Many didn't notice it as keenly as I did because I knew him way back when. They thought Trump was being Trump, off the cuff. But I knew something wasn't right.'
Omarosa, who served as director of communications for the Office of Public Liaison, was supposedly fired on December 13, 2017 following reports of an altercation with Chief of Staff John Kelly. Omarosa insists that she resigned.
From past tweets of President Trump, he knew what he was getting himself into:

Omarosa is prepared for the smoke. She says that she secretly recorded conversations with the President to substantiate claims that will be released in her book. I'm sure Trump is pissed beyond belief. I'm also sure he will make it known on twitter, just how angry he is. While the publisher would not confirm that Omarosa's recordings actually existed, what they did confirm was that
they "are confident that Omarosa Manigault Newman can substantiate her highly-anticipated account of life inside the Trump White House.". Her book is scheduled to be released on August 14th!
---
---
WATCH NOW: Omarosa's most Outrageous moments
---
---
---