Serena Covers Time Magazine: Here are 7 'TV Smack Talk' Notable Quotables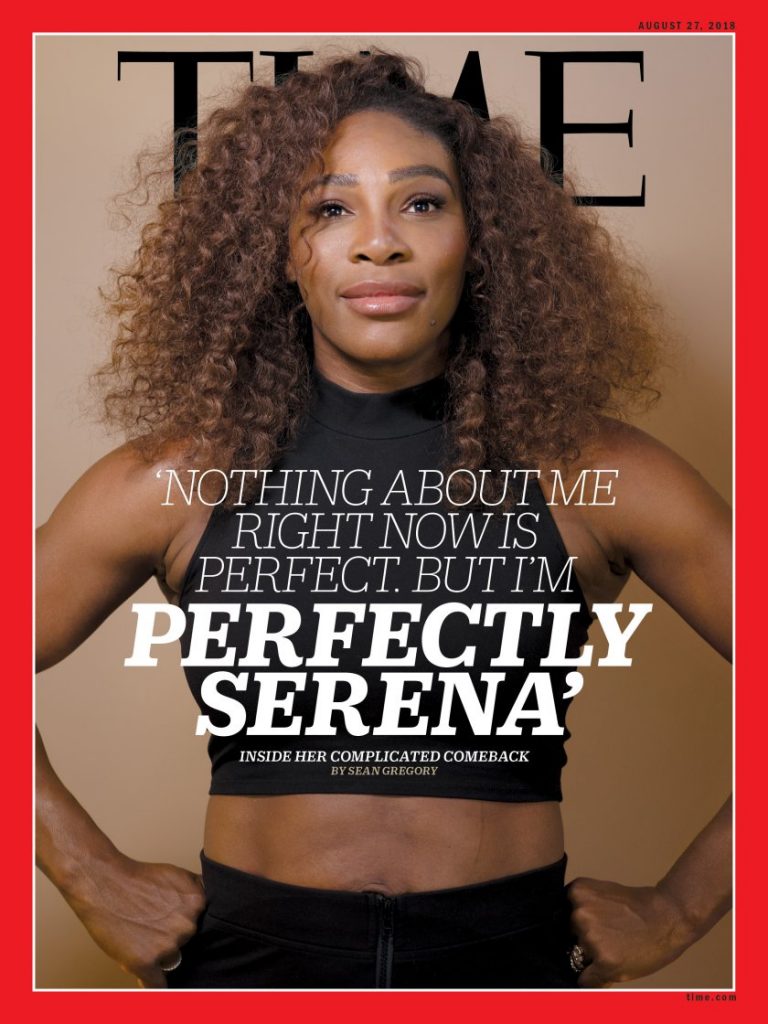 This interview came just days after Serena suffered the worse defeat in her career and preparing for arguably one of the most important events of her career. On August 27th the U.S. Open begins in New York.
Serena is not only battling opponents, she is also battling age.  Each event is an opportunity to further add to her legacy.  Serena has 23 Grand Slam titles.  She needs 1 more to tie the record and 2 to beat it.  She has her sights set on getting those 2.  But with every increasing month, she is aging.   Combine that with now being married and a mom, and tennis suddenly instead of tennis being your life and your passion, it becomes sort of a job you do, to help you enjoy your life.  Because of this, you think about the game differently, you train differently but you are hoping for the same results.  This can be tricky.
Here are 7 Serena takeaways, you can read the full article here:
….regarding if she plans to stop playing tennis soon
"I'm not done yet, simple, My story doesn't end here."
….on marrying a white guy
"I always assumed I'd marry a black guy," Serena says. "I always felt that I could relate more with a black guy, that we'd have more struggles in common, you know?"
...on deciding to breastfeed, even though it will slow down her recovery,
Once Serena did arrive in France for clay-court training (for Wimbledon), her coach, Mouratoglou told her she should stop nursing, for the sake of her game. "It's absolutely hard to take from a guy," Serena says. "He's not a woman, he doesn't understand that connection, that the best time of the day for me was when I tried to feed her. I've spent my whole life making everyone happy, just servicing it seems like everyone. And this is something I wanted to do."
.…on her lost at Wimbledon
She stopped scouting her opponents so closely, since they tend to bring their game to another level against her. But she decided to prep for Kerber. "I really wish I hadn't done that," she says. "Because she played much, much harder than she's ever played in her life. Hit nothing like she normally does. I was like, O.K., this is classic. Why did I do this? Just focus on Serena. That's when I do my best."
…..On her naturally athletic body in regards to getting drug tested than most.
"Look at me," she says, glancing at her herself in a mirror at home. "I was born this way. They're like, 'Oh, she can't be that great, she must be doing something.' I don't even lift weights." Serena laughs. "It's all God, you know," she says. "But whatever."
…On Why she thinks Kolin Kaeprnick would win a Superbowl
"He'd have so much to prove," she says. "I would. I can't imagine he would be any different. 'Man, I'm about to show out. Y'all gonna see stuff you've never seen before.'"
….Did she think that she would be playing this long?
If someone would have asked her a decade ago if she'd still be swinging a racket in 2018? "I would have said, Absolutely no, impossible, no chance," she says. "I'd bet my life on it."
You can read the full Time.com article here.
---