Simone Biles Becomes the First Woman to win 5 National All-Around Titles. (VIDEO)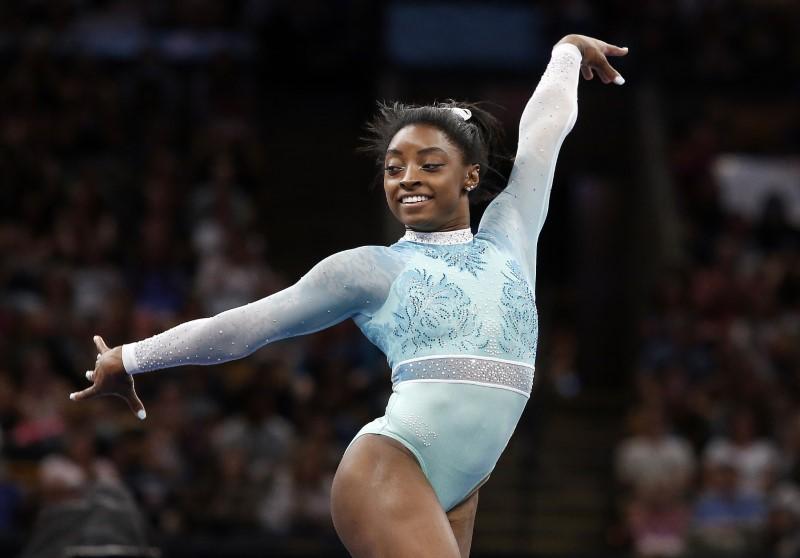 Be so good you can't be ignored.  This is something that I often say.  Simone Biles is that good.
Simone took 15 months off after Rio to just live life.  Some of her fans even ridiculed her for it, but she's back.  She made her first return in last month's U.S. Classic.  Although she was a little rusty and made some mistakes, she still walked away with a win.  This weekend, the rust was all gone.
Biles was literally unstoppable, securing her 5th U.S. All Around title.  She is the only woman in history to do so.  To put her victory in perspective, she won the All Around by 6.55 points over the 2017 Champion Morgan Hurd.  That gap is larger than Hurd had over the 11th place gymnast.  Biles literally dominated the competition.
She said of her own performance,
"I knew I was capable of [scoring this well], but I kind of thought I was going to be a nervous wreck and maybe fall apart.  Going into these events, I know I kept telling my family like I don't know if I'm going to be able to calm myself down the way I did before and handle the nerves, but so far, so good."
Biles also designed her own leotard including the color.  The teal selected is the designated color for survivors of sexual abuse.  Biles reveled that she was one of the victims of the USA gymnastics team doctor Larry Nassar!  Her victory and her visual shout out to victims, I'm sure was an inspiration to them.  A message to not let what has happened to them in the past, keep them from the future they deserve.
This is Biles fifth national all-around win (she claimed every title from 2013-16), making her the first woman ever to win five. USA Gymnastics started awarding all-around national champions in 1963. To clear up so confusion, she is the 2nd woman to win nationals five times.  Clara Schroth Lomady won six between 1945 and 1952, but the All Around title was not around then.
Next up, team US will defend their title in Qatar in October.
WATCH SIMONE BILES DAY 2 PERFORMANCES:
---