SO SAD: Dance Mom's Abby Lee Miller May Never Walk Again. Her Brave Fight with Cancer Continues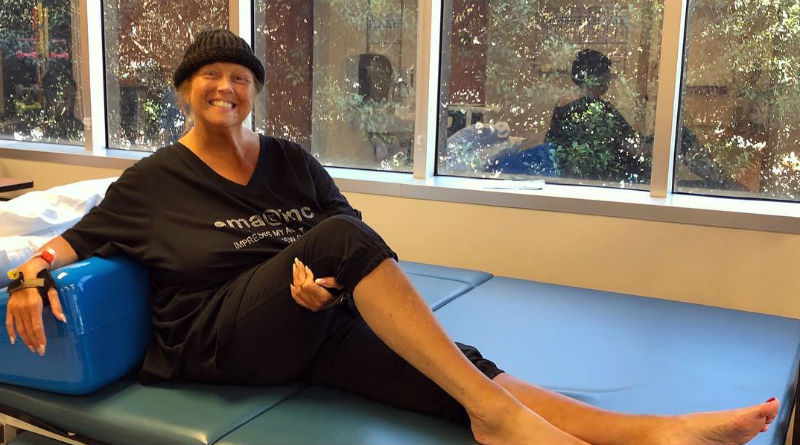 In case you think you have bad luck think again! Remember Abby Lee Miller from 'Dance Mom's'. Hell yeah, I watched 'Dance Mom's' and Abby was a beast. The important word there is "was".
Back in April, Abby was diagnosed with Lymphoma. Medical professionals told her that she would never walk again.
Abby was released from prison in March and just one month later she fell ill. She went in for an emergency surgery for an infection in her spine and was diagnosed the next day with non-Hodgkins lymphoma.
She received surgery in her back where she now has 52 staples and she's since undergone 5 treatments of chemo, which explains the weight loss you see in the photo, although she did lose some of that weight in prison.
She recently underwent an emergency procedure to remove a mass that was located near her spine. This was theoretically supposed to relieve some of the paralysis she is now experiencing.
Although the prognosis is not good, she is vowing to not only walk again but to return to TV as well. The 51 year old has been documenting every bit of the journey and plans to have a televised cancer special.
This week she got to leave the hospital to go shopping and you can see that it was like a new chapter in her life. She wrote,
"Hallelujah! I'm headed to the Mall! I've only been once in 13 long painful months. For a lifelong shopper like me that's absolute torture!!!"
Keep Abby in mind when you think you have bad luck; or a bad day. Being charged, convicted and jailed for bankruptcy fraud, getting diagnosed with Lymphoma and then after 7 seasons getting your show cancelled, I would say that's bad luck. Getting stuck in traffic, leaving your cell phone at home, or making a mistake at work – that's called "a day". Not a "bad day".
Just a year ago, Abby was a healthy reality TV Star worth millions. Now a good day for her is going to the mall in a wheel chair.
If you are not out enjoying your life, thanking God for everyday and doing good for yourself and those around you, what are you waiting for. It can all be gone in the blink of an eye so make the most of each day.
---