'Cosby' Show Star Geoffrey Owens Speaks Out After Being Job-Shamed By The Internet, Read His Wise Words!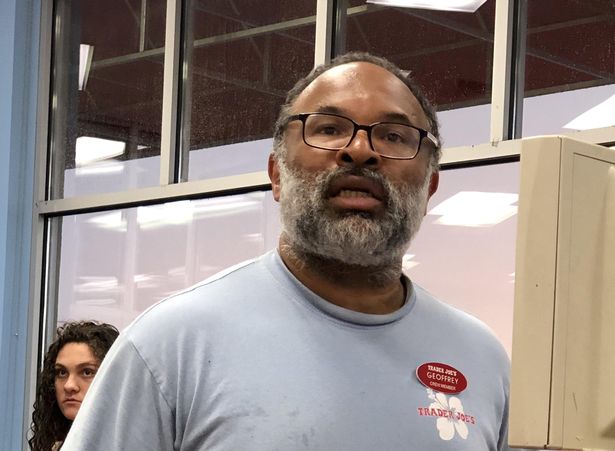 We told you about this bizarre story a few days ago. If you missed it, you can click on this link to check it out. Basically, a customer inside a Trader Joe's store in New Jersey snapped a photo of the employee helping her, who just so happened to be Geoffrey Owens.
He played Elvin on The Cosby Show. He appeared in over 40 episodes of the show and was married to Sondra Huxtable.
And even though he's been in a few TV shows since then, most recently on The Affair and Divorce, he's not making enough money to support himself and his wife. So, like a lot of Americans, he had to get a second job, which is why he worked at Trader Joe's for over a year. When the photo went viral, people started clowning him and basically shaming him for working.
Thankfully, a lot of people defended him, including other actors in Hollywood. Patton Oswalt, Pamela Adlon and Terry Crews spoke out and praised Owens for doing whatever it takes to provide for his family.
And now, Owens himself is speaking out. He told Robin Roberts that the support he has received has been more powerful than the negativity…
"I've been teaching acting directing for 30+ years, but it got to a point where it just didn't add up enough. You gotta do what you gotta do. I feel like I'm more of a celebrity now than I've ever been. 
I really want to thank everybody out there—family friends, Hollywood community and the general public—for the incredible support, for the amazing support and positivity they have shown for me. It's really astounding. It's quite encouraging. The period of devastation was so short, because so shortly after that, my wife and I started to read these responses from literally all over the world of support. So, fortunately, the shame part didn't last very long."
Owens has now quit his job due to the unwanted attention. He worked at the store for 15 months and revealed multiple people recognized him during his time there and they were all cool about it.
"This businesses of my being the Cosby guy who got shamed for working at Trader Joe's, that's going to pass. In some measure of time, that's going to pass away. But I hope what doesn't pass is…this rethinking about what it means to work, the honor of the working person and the dignity of work. 
There is no job that is better than another job. It might pay better. It might have better benefits. It might look better on a résumé and a paper. But actually, it's not better. Every job is worthwhile and valuable."
Amen, Geoffrey. Keep spreading them good vibes.
---