Matt Damon And Jimmy Kimmel Go To The World Series Together, And Their Shirts Had Everyone Laughing (PHOTO)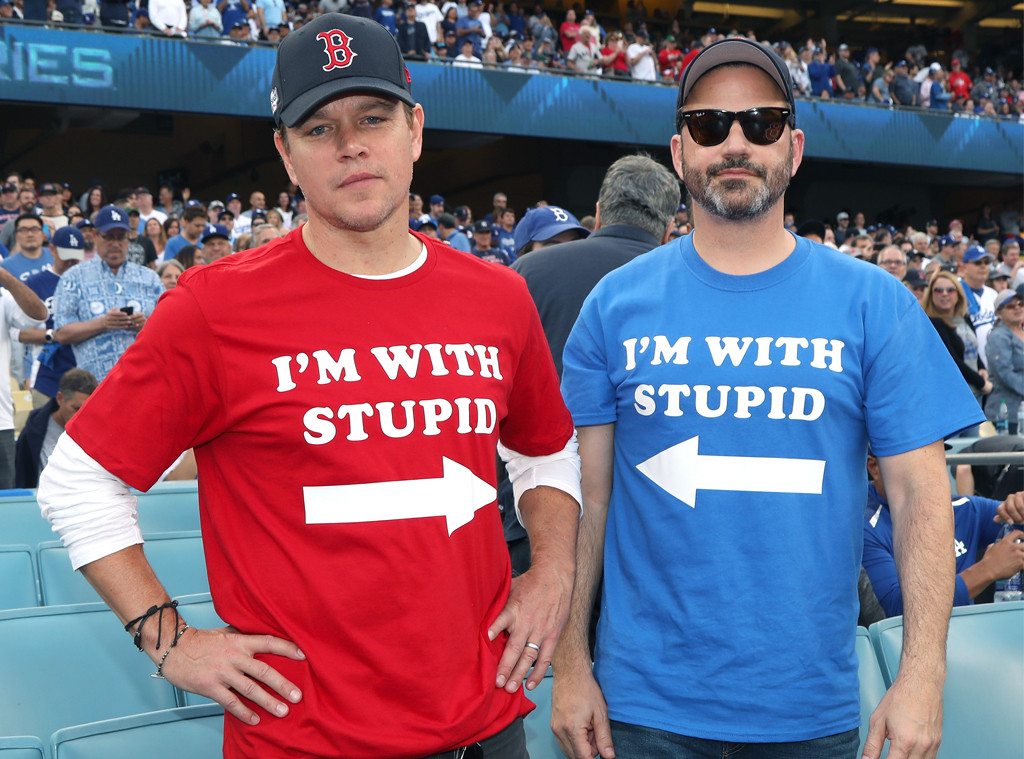 Well. The Boston Red Sox won the world series last night. They defeated the Los Angeles Dodgers in just five games. The Red Sox had the best record in the MLB during the regular season, so I guess it only makes sense that they came out on top.
During last night's game, Matt Damon and Jimmy Kimmel stole the show in the stands.
As most of you know, Damon is a huge Red Sox fan, and Jimmy's show is based out of Los Angeles, so he has to support the Dodgers. They attended the game together wearing the same "I'M WITH STUPID" t-shirt. Damon's shirt was red to represent the Red Sox, and Kimmel was reppin' that Dodger blue.
Damon and Kimmel have a long "feud" together. It's a running joke on Kimmel's show, so it was hilarious to see them take the beef out into the real world.
Ben Affleck was also with them, but he did not participate in the shenanigans. Affleck was also at Friday's game with his ex-wife Jennifer Garner. It's nice to see he's doing better.
There were other famous people in the stands as well. Throughout the series, celebs like Bryan Cranston, Judd Apatow, Arsenio Hall, Joe Jonas and even Lil Wayne were spotted chillin' in the stands.
---