Sarah Hyland's Cousin Dies In Drunk Driving Accident Caused By Driver Who Already Had Two DUIs
Some incredibly sad news to report today. Modern Family star Sarah Hyland lost her 14-year-old cousin Trevor in a horrific drunk driving accident on Saturday.
Trevor and his family were driving to a choir event in Omaha, Nebraska when they were hit by a drunk driver. The driver hit them so hard that Trevor, who was wearing his seatbelt, was ejected from the vehicle. His father Bryan is in serious condition inside the hospital.
Hyland went on her Instagram page to share the family's GoFundMe page with her followers…
"This is my 14 year old cousin Trevor. Yesterday, he was killed by a drunk driver. My uncle is still in the hospital in need of more surgeries."
Her Modern Family co-star Ariel Winter re-posted the screenshot and shared the GoFundMe page with her followers. She also mentioned that the driver who hit Hyland's cousins had already been charged with two DUIs in the past.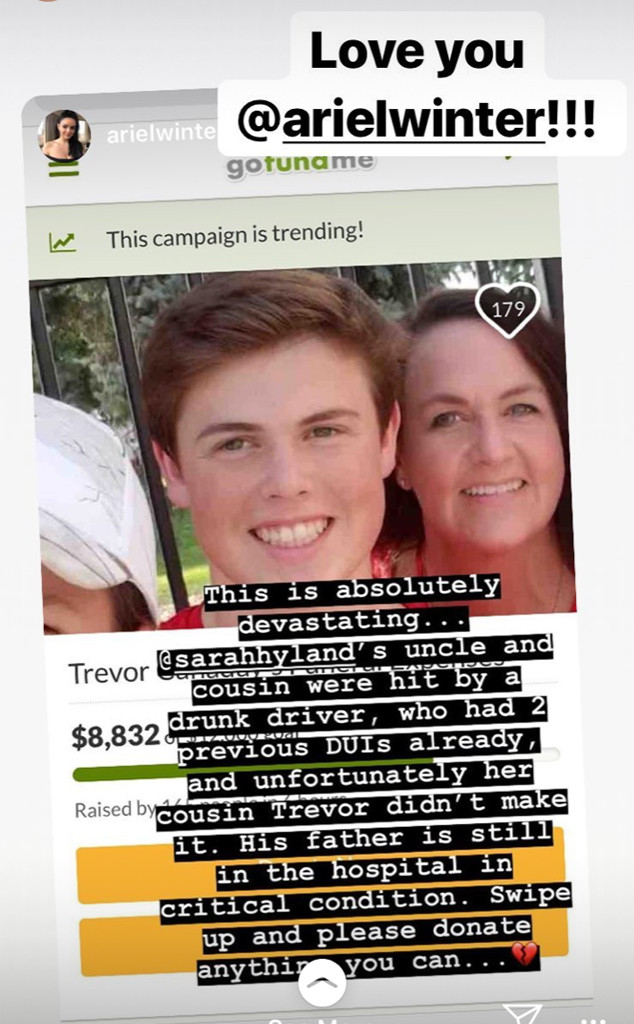 Sad stuff. According to the GoFundMe page, Trevor was a funny, smart and athletic kid…
"Trevor was a funny, smart, innovative, athletic, goofy kid and he was so loved. His memory will live on in many ways. Please help us do this for the family now to help ease their suffering away from money to focus on healing emotionally."
What a terrible time for this happen, right before Christmas. Maybe we should start rethinking the whole, "Three DUIs and you're out" law. I think one is enough.
---