Kanye West Just Put The Drake Beef Back In The Oven During A Lengthy Rant On Twitter, Claims Drake Called To Threaten Him!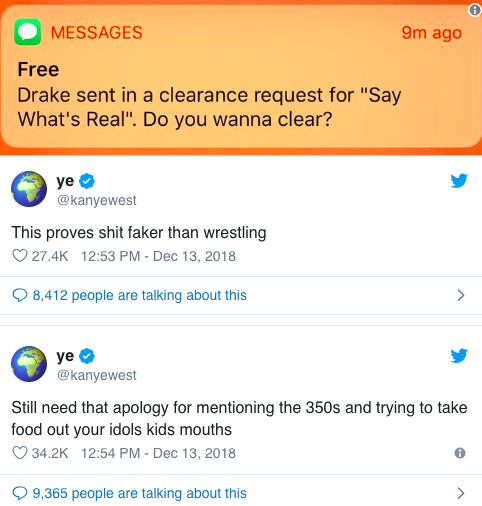 Two of the biggest names in hip-hop have major beef with each other right now. It all started early Thursday afternoon when Kanye West took a screenshot of a text message he received alleging that Drake wanted clearance for "Say What's Real," a Kanye-sampling song from 2009.
Following the screenshot, West posted several tweets demanding an apology from Drake. As most of you know, they had beef earlier this year when Drake claimed in an interview that West was the one who told Pusha-T all that delicious dirt from his diss track, The Story of Adidon. Pusha-T came out shortly after the interview and said it was actually a friend of Noah "40" Shebib who told him about Drake's dirty laundry.
"In his initial series of tweets, Kanye referenced an apparent diss from Drake that leaked earlier this year and Drake's supposed role in the incident at Pusha-T's Toronto show. Shortly after, Kanye tweeted that Drake called, adding, 'Mission accomplished.' He added that he will not clear the sample."
Apparently, Drake's phone call this afternoon made things worse. Kanye went back on his Twitter account this evening to call out Drake.
He says Drake called to threaten him, "Never threaten north saint and Chicago's dad bro," he tweeted before adding, "You would be so sad if anything ever happened to me. You trying to be a bully. I never been bullied in my life and I never will be. That's why I made it this far in a pink polo."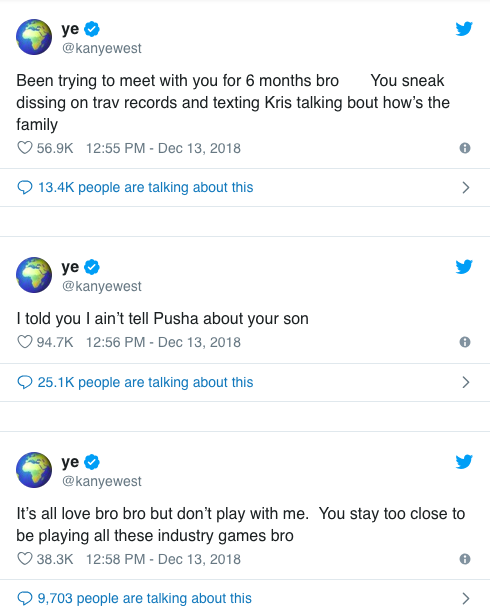 West then said he's still willing to talk this whole thing out, "We need to show all of these fans that black men [email protected] without someone ending up dead or in jail."
We'll see how Drake responds to all this. It's a lot to digest. That's usually the case when it comes to West. He doesn't start you out with an appetizer. West puts out a whack buffet, with the ice cream right next to the crab legs. This sh*t only makes sense to him.
---