Did Travis Scott Just Take Drake's Side In The Feud With Kanye West? Posts Suspicious Photo To His Instagram Stories
Could things be a little awkward at the Kardashian Family Christmas this year? Well, maybe. On Saturday, Travis Scott went on his Instagram stories and posted the photo you see above.
Why is this photo controversial? Well, he's proudly showing off a white Nike sock. Kanye West has a well-known deal with Adidas and Drake has a deal with Nike, so the fact that Scott was clearly reppin' Nike made some people wonder if he was taking Drake's side.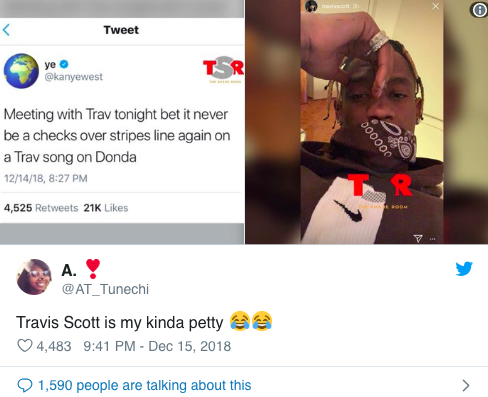 One Twitter user posted the photo to their account and wrote, "Travis Scott is my kinda petty," and that sparked a reaction from Kylie Jenner.
"he's not being petty. this is a sweatshirt design (the sock is apart of the design). everyone is good, moved on, living life. for anyone who wasn't aware – travis has had a deal w Nike and still does. point is.. it's all been talked out. It's only positive energy."
I mean, I suppose that makes sense, but it's still an odd time to be posting that photo. Or maybe we just want drama. I'd love to see a legit Kardashian feud. Not the bullsh*t they show on Keeping Up With the Kardashians.
---