Teen Mom OG's Tyler Baltierra Responds To Angry Fans Who Claim He Doesn't Deserve Catelynn Lowell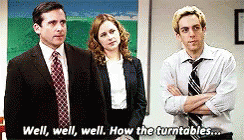 Just a few short months ago, Teen Mom OG's Tyler Baltierra was the victim. People were saying he was so great for standing beside Catelynn Lowell as she entered treatment for what felt like the 10th time. They said he was a great father and any woman would be lucky to have him.
But now? Things are changing. Ever since Catelynn returned from rehab, Tyler has been super cold to her, and obviously there is a reason for that. He's probably hurt. He is tired of putting everyone else before him…he's tired of always having to be the stable one. But instead of trying to work through his anger, he appears to be biting into it and treating Catelynn like a piece of trash.
In the final episode of the season this past week, Tyler's jerkish behavior was at its worst. I mean, the cameras made him look like a true asshole, and that's when the fans started to turn on him. Instead of supportive messages, fans started sending hate.
One person wrote, "Your a scum bag. You don't deserve Cate. I hope karma bites you in the ass," and surprisingly Tyler responded to the comment by writing…
"You're absolutely right … I don't deserve Cate. [And] trust me, karma has bitten me many times before, so I'm well equipped when she comes knocking again! 
"
And given his disdain for Catelynn recently, it's hard to tell if he's being sarcastic. Does he truly mean he doesn't deserve her? Or does he mean he doesn't deserve the sh*t she has put him through?
Another follower called him a d**k. He responded by explaining the 30 day separation was hardly a true separation…
"Tell me something I don't know. The 30 days wasn't even a total isolated 'separation. I was 8 min down the road & we had dinner dates, family movie nights, went on a mini vacation & it was EXACTLY what we needed for US! People can hate on me all day but my self assurance is not reliant on society's acceptance "
It's interesting how these things play out. You can make anyone look like a complete butthole with the right editing. MTV in the beginning made Tyler look like a super dad, so everyone loved him and felt bad for him.
But now that Cate is back, they're showing more of his coldness toward Cate, and it's making him look like a douchebag.
You can't get too high or too low on these reality stars because you only know what the cameras want you to know.
---