Good Guy Tom Hanks Dines At In-N-Out, Then Takes Selfies With Fans And Buys Their Lunch (VIDEO)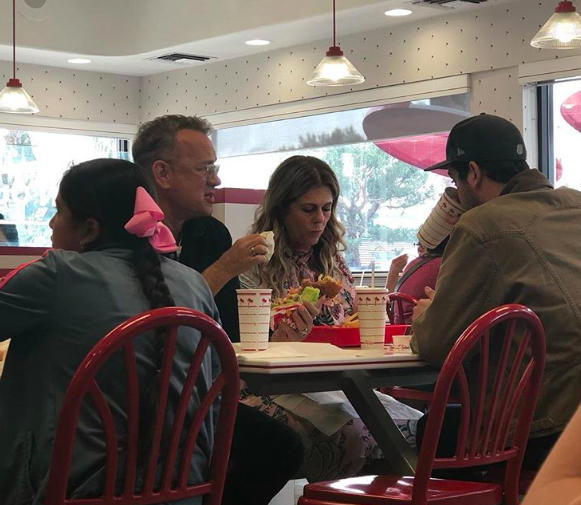 It looks like Tom Hanks is in the Christmas spirit. The 62-year-old actor stopped by a random In-N-Out in Fontana, California, on Friday. He was with his wife, Rita Wilson, and he was NOT trying to hide the fact that he was Tom Hanks.
Instead, he embraced the attention and took selfies with fans, signed In-N-Out hats for everyone and bought lunch for several customers waiting in the drive-thru.
A fan named Meghan posted a few photos of Hanks to her Instagram account. She also talked with reporters and told them Hanks was genuinely nice to everyone…
"Tom sighed In-N-Out hats and took pictures with everyone. He was genuinely nice, laughing, talking with everyone and taking selfies! He wished us a Merry Christmas on his way out." 
For those wondering, Fontana is a small city 50 miles east of Los Angeles. They don't get a lot of visits from celebrities, so this was a pretty big deal. No word on where Hanks and his wife were headed, but it's possible they were going to Palm Springs.
Look who visited Fontana In N Out! Woody himself, Tom Hanks, and he bought lunch for everyone! Nice! pic.twitter.com/LcNGr9S7X0

— Oak Park Elementary (@FUSD_OakPark) December 22, 2018
---