Light Work: UFC Fighter Polyana Viana Put Hands on A Would Be Robber and Then Choked Him Out.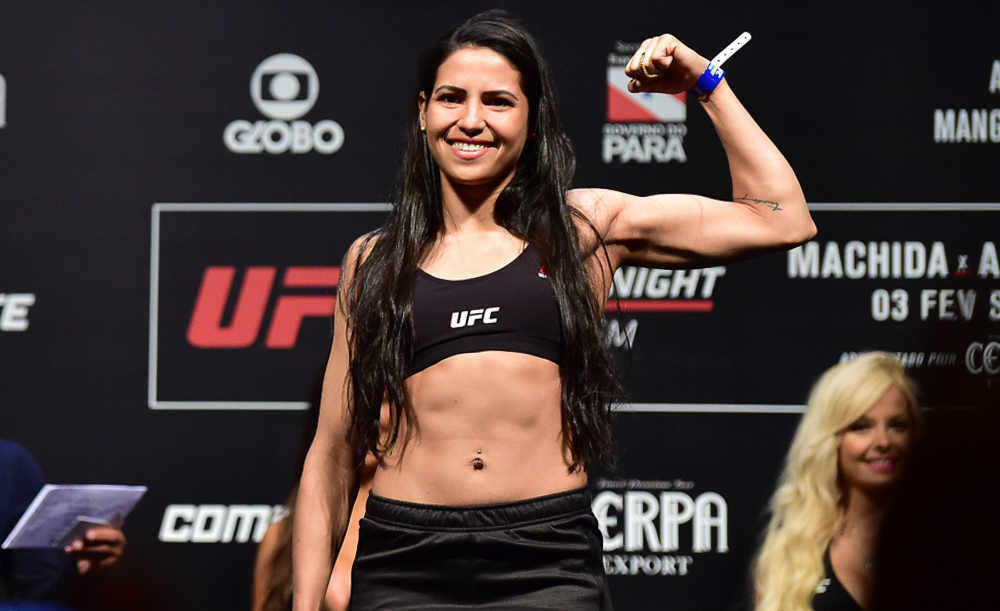 This past Saturday, Viana was waiting for an Uber in Jacarepaqua located in Western Rio de Janeiro. A man approached her and was sitting too close and tried to steal her cell phone. Viana said she was alarmed from the start,
"When he saw I saw him, he sat next to me. He asked me the time, I said it, and I saw he wasn't going to leave. So I already moved to put my cell phone in my waist. And then he said, 'Give me the phone. Don't try to react, because I'm armed.' Then he put his hand over (a gun), but I realized it was too soft.
"He was really close to me. So I thought, 'If it's a gun, he won't have time to draw it.' So I stood up. I threw two punches and a kick. He fell, then I caught him in a rear-naked choke. Then I sat him down in the same place we were before and said, 'Now we'll wait for the police.'"
Viana then asked passerbys for help as she held the would be robber in a . He was taken to the hospital and then later booked.
"I was fine," Viana said. "I was fine because he didn't even react after. Since he took the punches very quickly, I think he was scared. So he didn't react anymore. He told me to let him go, like 'I just asked for the time.' I said, 'Asked for the time my ass,' because he saw I was very angry. I said I wouldn't let go and that I was going to call the police.
"He said, 'Call the police, then' because he was scared I was going to beat him up more."
Viana is currently not scheduled to fight coming off a loss to J.J. Aldrich at UFC 227 last August. This incident got Dana White's attention along with the rest of the world.
On the left is @Polyana_VianaDF, one of our @UFC fighters and on the right is the guy who tried to rob her #badfuckingidea pic.twitter.com/oHBVpS2TQt

— Dana White (@danawhite) January 7, 2019
Despite her recent loss, she had a five fight win streak of first round finishes. With this incident, and the tweet from Dana, her new found popularity might get her a ticket to the next UFC event. I hope so, we love happy ending……um….you know what I mean!!
---