Jenelle Evans' Mom Barbara Gets Drunk With Jenelle And Threatens To Kill Kailyn Lowry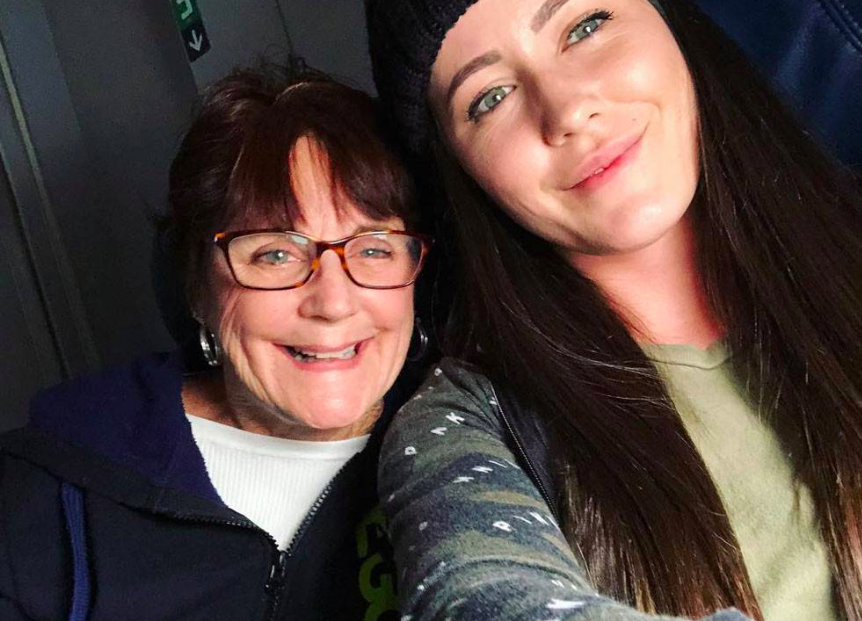 Sadly, it looks like Jenelle Evans' mom Barbara has joined the dark side. Just last year, she was standing up against her daughter and basically begging her to leave her terrible husband David Eason. They would get into HUGE arguments about this and wouldn't speak for weeks at a time.
But I guess Barbara has decided to give up. She's been all buddy-buddy with Jenelle and David for the past few months, and now she's even starting to talk like them.
Jenelle and Barbara went on Instagram live the other night and filmed themselves eating pizza and drinking beer. At one point during the recording, Barbara said they should "get lit and kill Kail," and much to everyone's surprise, Jenelle was the one saying, "You can't say that sh*t!"
Later in the video, Barbara apparently got a phone call about the comment (perhaps by MTV producers?) and she had to clarify her death threat.
Earlier I was talking to Brittany [DeJesus], Briana [DeJesus]'s sister and I said that I wanted to kill Kailyn. Everybody took it out of perspective. That's not really what I meant. It was a joke. It was only a joke. I was being sarcastic and everyone freaks out like I want to go kill the girl. C'mon I've known the girl for 10 years. That's crazy s–t.


And yeah, obviously she wasn't serious. She's not actually planning a murder with Jenelle; however, it does show you just how blind they are to the world around them. Everyone can see how absolutely terrible and dangerous David is, but they're just sitting there protecting him.
That's why Barbara joked about killing Kailyn, 'cause Kailyn has stated she doesn't want to be around David. Earlier this month she made it clear she wouldn't be attending any reunion show on the same day or weekend as Jenelle and David because she's afraid of David.
And you know what? I don't blame her. David is going to do some crazy sh*t one day, and I don't want to be near him when he finally snaps.
---