Jenelle Evans Claims David Eason Wants To Adopt Jace After Fun-Filled Day Of Killing (and eating) Squirrels (PHOTO)
Teen Mom 2's Jenelle Evans decided to have a little Q&A session with her fans on Instagram the other day, and during the question session, Evans revealed her husband David 'The Douchiest Bag' Eason wants to adopt her 9-year-old son Jace.
Of course, that probably won't happen for a long time because Jenelle doesn't even have custody of her son. Her mother still has primary custody of him, so yeah, those adoption plans will have to wait.
Last year around Thanksgiving, David attempted to bond with Jace by showing him the only thing he's good at doing, killing things that are smaller than him. They went out in the woods and shot some squirrels, and according to his caption, they also ate the squirrels.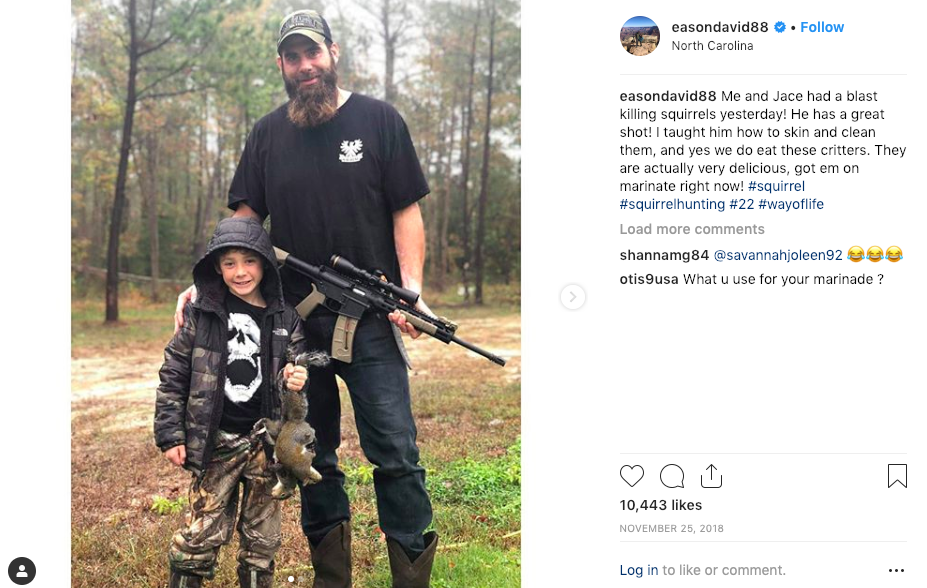 I didn't know people actually ate squirrels. That's weird, man. You have to save those things for when the real sh*t goes down. You go killing them all now, what are you going to eat when the world starts to end?
If you watched the latest episode of Teen Mom 2, then you know Jace's real father Andrew Lewis contacted Jenelle, asking her and Barbara if he could see his son. He apparently has made a good life for himself in New York and wants to have a relationship with his son. They both seemed hesitant because he hadn't contacted them for years.
And of course, we all know how David feels about the idea, "David doesn't think he should just suddenly step in now that Andrew had his chance a long time ago."
I'm sure David feels threatened.
---