Katy Perry And Orlando Bloom Are Now Engaged, Actor Pops The Question On Valentine's Day (RING PHOTO)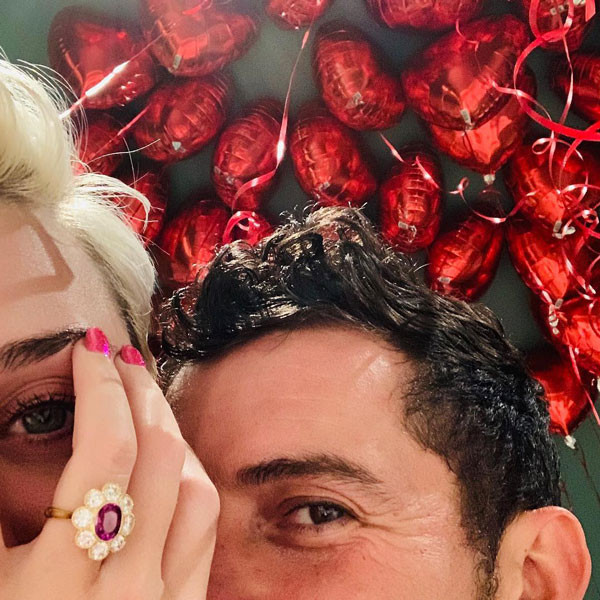 Just one week ago, Katy Perry talked about how Russell Brand ruined marriage for her. For those who don't remember, Brand announced he wanted to divorce her via text message. It was a pretty crappy move, one he regrets now.
During an interview with Paper Magazine, Katy said…
I'm very pragmatic and logistical and I am less fantastical about things. I mean, I was married when I was 25. I'm 34. It was almost 10 years ago. I was like, 'One person for the rest of my life,' and I'm not so sure that that idea is for me. I'm just such a different person than I was.
Well, it turns out that sh*t was a lie…A BIG ONE! Because yesterday (Valentine's Day) Perry's on/off boyfriend Orlando Bloom asked her to marry him.
He reportedly set up a romantic date for them and then popped the question. Perry shared a photo of the ring (see above) and it's pretty huge and unique. She captioned the pic, "Full bloom."
According to Andrew Brown, President of WP Diamonds, the ring probably set Orlando back around $5 million…
Katy's unbelievable engagement ring from Orlando Bloom would retail in the range of $5 million. What looks to be a 4-carat fancy vivid pink oval shaped diamond arranged with eight white diamonds around it to assemble a flower 'in bloom' – this ring is truly one-of-a-kind and wildly valuable.
Safe to say, there's nothing logistical about that ring. That has fantastical written all over it. Looks like some Pirates of the Caribbean sh*t.
Even though Katy Perry lied to us, we still wish them the very best. Unlike most of the couples getting married these days after only a few months of dating, Katy and Orlando have been dating (on and off) since 2016.
---