Spike Lee Was The Star Of The 2019 Oscars, Check Out All His Highlights Inside!
After months of controversy surrounding the Oscars, from Kevin Hart's hosting debacle, to trying to cut certain awards from the live telecast, the 2019 Academy Awards finally aired last night.
And for the most part, they went as expected; however, Spike Lee did add a spark of energy and unabashed emotion. As some of you may know, Lee won the award last night for Best Adapted Screenplay for the wonderful film, BlacKkKlansman.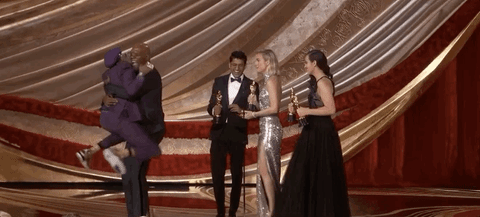 He basically floated to the stage (after getting quite the hug from Samuel L. Jackson) and gave an empowering speech…
The word today is irony. The date, the 24th. The month, February, which also happens to be the shortest month of the year. Which also happens to be Black History Month. The year, 2019. The year, 1619. History, her story. 1619, 2019. 400 years, our ancestors were stolen from Mother Africa and brought to Jamestown, Virginia, enslaved. Our ancestors worked the land from can't see in the morning to can't see at night. My grandmothers, who lived to be 100 years young, who was a Spelman College graduate even though her mother was a slave.

The 2020 presidential election is around the corner. Let's all mobilize, let's all be on the right side of history. Make the moral choice between love versus hate. Let's do the right thing!
And while the speech was great, it was all the moments surrounding the speech that really made the night special for Lee and the internet.
Like when Awkwafina joked about meeting Lee and he gave this expression…
February 25, 2019
Or when Barbra Streisand gave a short monologue to introduce BlacKkKlansman and she talked about the Twitter friendship she developed with Spike.
I had to tweet about it, about how good it was and then I got a lovely thank you from Spike himself. And the conversation after that was very easy because we were both raised in Brooklyn. And Spike, we both love hats.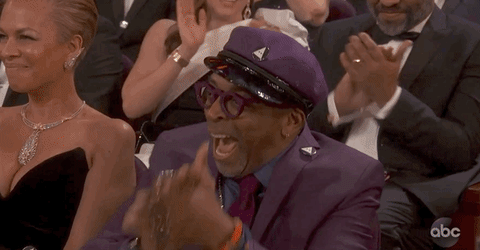 Or maybe the best moment, which came after the awards ceremony was over.
After 'Green Book' somehow took home the award for Best Picture, Lee was visibly upset. He had to be calmed down by Jordan Peele. There's a lot of controversy surrounding the film, mainly due to the fact the Don Shirley's family does NOT approve of it. And it's also just one of those films that is meant to make white people feel better about having racist thoughts.
When Lee was asked about it after the show was over, this is what he had to say…
Safe to say, Spike Lee was THE man at the Oscars.
---