Felicity Huffman And Lori Loughlin Indicted In College Admissions Bribery Case, Huffman Was ARRESTED AND IS IN COURT!
Wow. Earlier today we talked about how much we hate megachurch pastors, now we get to talk about how much we hate entitled, rich celebrities who think they own the f**king world. Actresses Felicity Huffman and Lori Loughlin have been charged (along with 48 others) in a huge bribery scam involving some of the most prestigious colleges in the country.
Court records show they paid hundreds of thousands of dollars in bribes to cheat their daughters into colleges they had no business being in. These universities include Yale, Georgetown, Stanford and USC.
The charges include conspiracy to commit mail fraud and honest services mail fraud. We've learned Felicity has been arrested and is presently in custody. We're told she will be released on a signature bond … which essentially is a promise to appear in court.    

The alleged scam was reportedly unearthed after authorities found a California businessman who ran an operation helping students get into the college of their choice. Authorities say parents would pay the man a predetermined amount which he would funnel to an SAT or ACT administrator or a college athletic coach.
And get this, Huffman is married to Oscar-nominated actor William H. Macy, and while his name was not mentioned in the report, he was listed as a "spouse" and according to the reports, he was well aware this was happening, even participating in conversations with a witness.
They allegedly disguised their bribery payments as charitable donations, which only makes the situation worse.
Loughlin and her fashion designer husband had to pay even more than Huffman did to get their kids into college.
Investigators say in the affidavit that in July 2016, the couple agreed to pay bribes totaling $500,000 in exchange for having their two daughters designated as recruits to the USC (University of Southern California) crew team, despite the fact they did not participate in crew, thereby facilitating their admission to USC.
Loughlin's 19-year-old daughter Olivia Jade actually has a popular YouTube account, and it's safe to say people have been going in hard on her…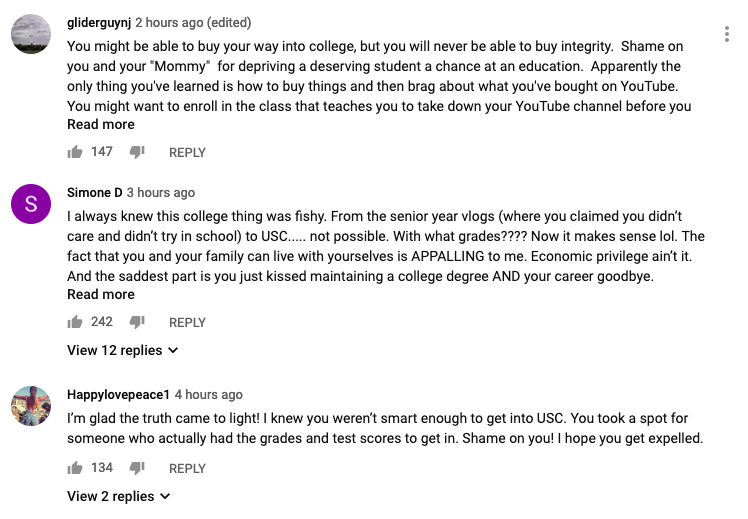 What a freaking mess this whole thing is. Obviously, since they're rich, they will probably get away with it all. A slap on the wrist. The worst part will be the embarrassment.
What makes them think their kids are so f**king special? I don't care how rich I was, I wouldn't cheat my kid into college. If my kid came up to me and was like, "Dad…I REALLY want to go to Yale. It's my dream. Please can you make it happen."
I'd look him straight in the eyes and be like, "Find another dream, 'cause yo' dumb a** didn't work hard enough."
---