Ariana Grande Jumps On Instagram To Share Photo From Her Brain Scan Showing Effects Of PTSD
We all know Ariana Grande has been struggling mentally since 2017. Back in May of 2017, Grande had just finished a concert inside Manchester Arena when terrorists killed 19 and injured several more of her fans with multiple explosions.
It was obviously a traumatic experience for the pop star. Then in 2018, she lost her ex-boyfriend Mac Miller and went through a very public breakup with Pete Davidson. So yeah, even though her career has never been hotter, her personal life is a bit of a mess.
On Thursday, Grande went on her Instagram Stories to post a photo of three brain scans. The first scan shows a healthy brain, the second scan shows a "PTSD" brain, and the third scan shows Grande's brain, which mirrors (and is even worse) than the standard PTSD brain.
"not a joke" she said underneath the scans. No word on when the scan was performed, but we're assuming it was recent.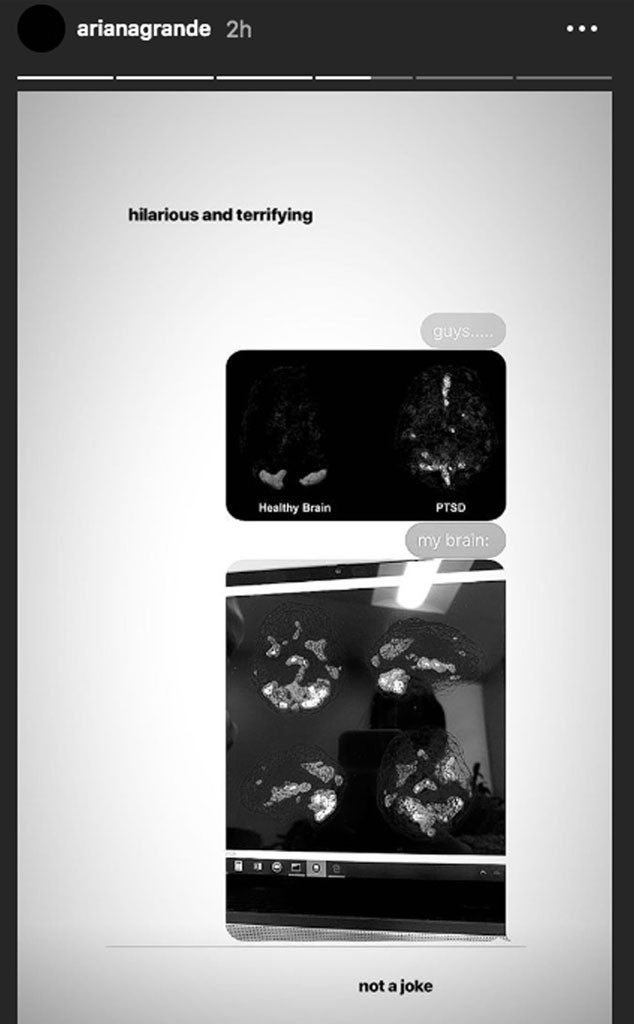 Pretty crazy stuff. I'm not going to sit here and pretend to know anything at all about brain scans, but if the images above hers are accurate, then yeah…she's dealing with a lot of sh*t. As you can see, there are numerous highlighted spots on her brain. That appears to be lots of trauma.
Last year, Grande spoke briefly about the Manchester terror attack. She told British Vogue the following…
I hate…yeah…admitting it but it very much is. That's what everyone was telling me. It's hard to talk about because so many people have suffered such severe, tremendous loss. But, yeah, it's a real thing. I know those families and my fans, and everyone there experienced a tremendous amount of it as well.

Time is the biggest thing. I feel like I shouldn't even be talking about my own experience—like I shouldn't even say anything. I don't think I'll ever know how to talk about it and not cry.
You know, the whole feeling like she shouldn't talk about it because she personally didn't lose anyone is probably only adding to the terror in her brain. She NEEDS to talk about it. This isn't a competition on who suffered more. We all have our own struggles and it helps to talk about them.
FREE UP YOUR BRAIN, ARIANA!
---