Kandi Burruss' Husband Facing Some Heat After Taking Their Daughter To A Strip Club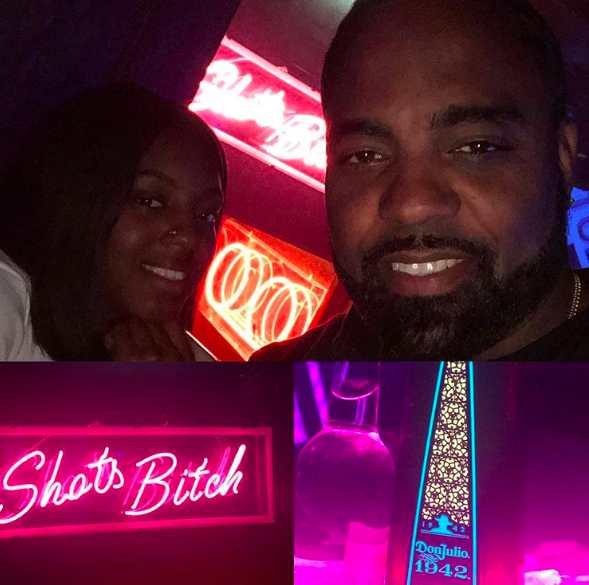 Real Housewives of Atlanta star Kandi Burruss is known for being a little different. She has her own line of sex toy products, hosts a sexually charged talk show, and has a BDSM live show called Welcome to the Dungeon.
So yeah, we know she is a freak, and apparently her husband Todd Tucker is one as well.
He's facing some backlash after taking their 23-year-old daughter to a strip club in London for her birthday. He posted about the special occasion on Instagram by sharing the clip you see below…
After trying to defend himself on Instagram, Tucker decided to talk directly to TMZ.
He explained that it's apparently a family tradition. His mom took him to a strip club when he was younger!
Me and my daughter has been to the strip club before. We been to Magic City, it ain't no big deal. Me and my mom even went to the strip club before. It's in our genes. My daughter just turned 23. They're gonna go anyway, so why not experience it and have fun with the kids. That's what we need to do. We need to spend more time with our kids, even if it's at the strip club.

I'm sayin', taking your kids to the strip club is cool. It's bonding. We threw some ones together. Smacked a couple of booties, but it shows that dad is cool so she's able to have those good conversations with me.
Uh, I don't know. I think you can show that "dad is cool" in other ways. I'm pretty sure you don't have to take your daughter to a strip club to prove your coolness.
Smacked a couple of butts together? Come on now, lol. What in the world. I've never heard of such a thing. And what kind of excuse is, "They're gonna go anyway"?
THAT DOESN'T MEAN YOU HAVE TO BE THERE WITH THEM PARTICIPATING AND SH*T!
They're also going to have sex. Are you going to be in the corner giving insider tips as it happens?
---