Sherri Shepherd Puts Ex-Husband On Blast By Calling Him A "Sorry-A** Dude" And He Responds By Claiming She Has Abandoned Their Child!
Damn. One thing is clear, Sherri Shepherd HATES the fact that she has to pay her ex-husband, Lamar Sally, $4,100 in child support. She has expressed her disdain for the situation in the past, but now she's going directly after Sally.
During an interview with D.L. Hughley, Shepherd basically agreed that Sally was a sorry-a** dude and said she only got with him because she was lonely and horny.
Obviously Sally had a problem with her claims, and he responded with the letter you see below. In the letter, Sally claims their relationship was built on love. He also said that Shepherd has abandoned their son, which is something "that's between you and your God."
Oh, and he accused her of sabotaging his potential writing gigs…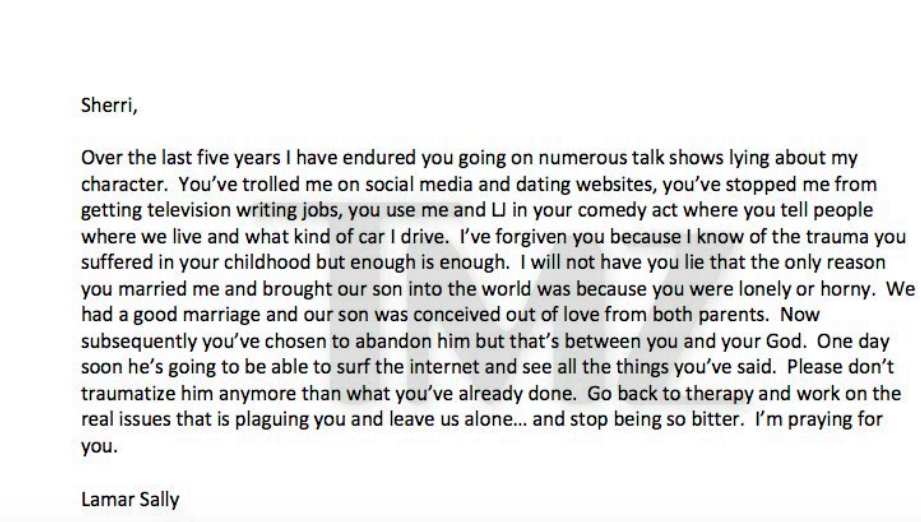 And since this is the story that keeps on giving, Shepherd has responded to his most recent claims.
A paparazzo caught up with her at the airport, and she said that if she had that much power in Hollywood, she'd use it to GET him a job so she wouldn't have to support him anymore. She also revealed that he was out of work when she met him.
It wasn't all bad though. She did admit that he is a talented writer, so at least he has that going for him.
---