Miley Cyrus Gets #Real In New Interview, Says She Is Married To Liam Hemsworth, But She's Still Very Attracted To Women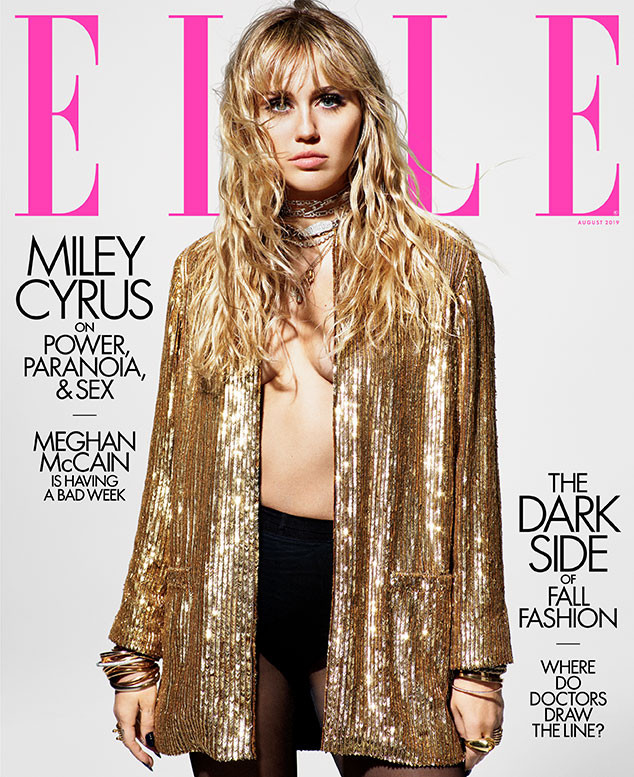 It looks like it's Miley Cyrus' turn for a cringeworthy "I'm a unique badass" interview. All celebrities have one. Miles Teller had one with Esquire and now Cyrus is having her turn with Elle.
The 26-year-old star covered the magazine and talked about her ~futuristic~ marriage to Liam Hemsworth. In the interview, Cyrus claims her marriage is so unique, so new and so modern that she's not even going to bother explaining it to us plebs.
I think it's very confusing to people that I'm married. And I don't know that I would ever publicly allow people in there because it's so complex, and modern, and new that I don't think we're in a place where people would get it. I mean, do people really think that I'm at home in a f–king apron cooking dinner?
Wait, what? Is that the idea most people still have of marriage? That the woman is just in the kitchen cooking all day with an apron? Does she think she's unique because she's not wearing an apron?
I'm in a hetero relationship, but I still am very sexually attracted to women. People become vegetarian for health reasons, but bacon is still f–king good, and I know that. I made a partner decision. This is the person I feel has my back the most. I definitely don't fit into a stereotypical wife role. I don't even like that word.
Oh, so it's unique because you're attracted to women? I mean, who isn't attracted to women? And don't most people (who are getting married for the right reasons) base their decision on who they feel has their back the most? Who will be there no matter what?
You know, that whole "for worse, for richer, for poorer, in sickness and in health, until death do us part."
I'm pretty sure you're not as unique or complex as you want to be, Miley. But hey, it's cool. We don't love you because you're complex, we love you because you make catchy a** songs…
Miley also talks about having children. She says she's not going to bring a child into this world until we start treating the planet with respect.
We're getting handed a piece-of-s–t planet, and I refuse to hand that down to my child. Until I feel like my kid would live on an earth with fish in the water, I'm not bringing in another person to deal with that.
Okay, okay. I get it…BUT WHAT IF YOUR KID IS THE ONE WHO SAVES THE EARTH, MILEY? YOU EVER THINK OF THAT?
---