America Has A Gun Problem, And The Proof Is That Aaron Carter Has A Home Full Of Loaded Weapons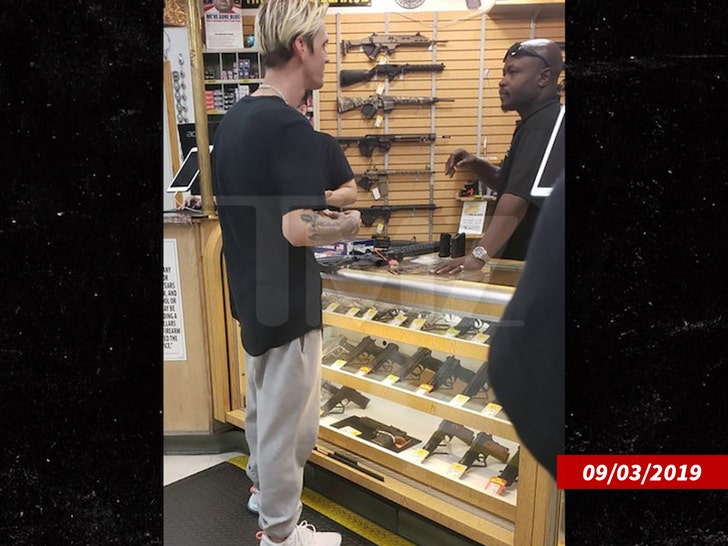 Okay, so the headline is admittedly a bit dumb. The proof that America has a gun problem is the thousands of innocent people who have lost their lives in recent years due to gun violence.
But sometimes, people need more to convince them. They need something they can see with their own eyes.
So let's talk about Aaron Carter. A white male with a myriad of mental health problems. He went on 'The Doctors' just a few days ago to talk about his struggle with mental illness. He claimed he had been diagnosed with bipolar disorder, schizophrenia, anxiety, depression, and the list goes on and on.
He held up a bag of medicine he takes to help keep him sane. He also just recently canceled his upcoming tour to focus on his mental health.
BUT STILL, HE CLAIMS HE'S STABLE ENOUGH TO OWN SEVERAL LOADED GUNS.
The 31-year-old singer was on TMZ Live on Monday to talk about how cops showed up at his home Sunday night. They tried to take him away on a psychiatric hold, but he apparently convinced them he was okay.
The singer says he warned deputies he had loaded weapons scattered around his home — but also convinced them, and a mental evaluator, he was not a danger to himself or others.

Aaron says he doesn't know who sent the authorities to his home — though he believes it was someone really close to him — but he's adamant about one thing … he ain't giving up his guns.
When TMZ asked if he disclosed his bipolar diagnosis when he applied for his firearms, he got pretty defensive and claimed he's not actually bipolar. He says The Doctors edited the episode to make it look like he had all these mental issues. Producers on the show claim that's not true.
So there you go, folks. Next time you (or someone else) asks, "How do these shootings keep happening?" point them to Aaron F**king Carter.
If he can legally find a way to get guns…anyone can.
---